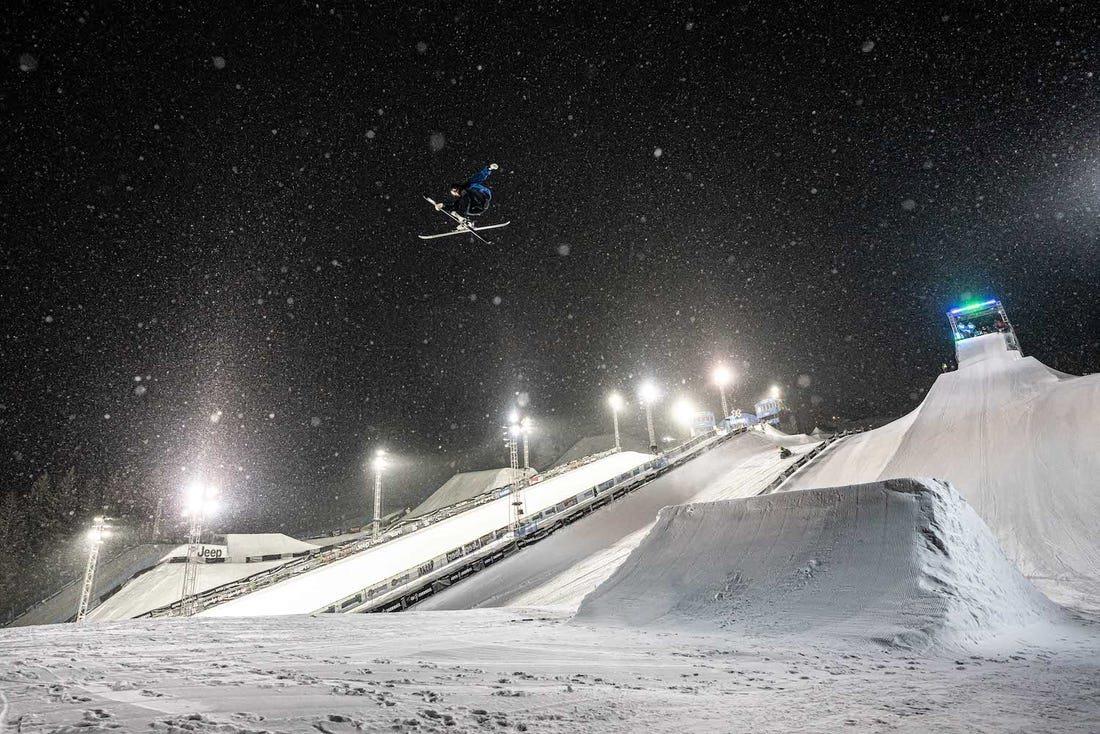 Lifestyle and Events
1/29/2021
Winter X Games 2021
Happy X Games weekend from Aspen Snowmass! We received some much-needed snow across all four mountains over the last week, and we are ready for the action! Due to the Covid-19 Pandemic, this year's X Games will be different than years past. This year's events will focus entirely on the athletes and the competition at Buttermilk. Fans have the opportunity to enjoy this year's event completely virtual. Read on to review the history and evolution of X Games, highlights from past events, and why X Games have become a favorite event for locals, spectators, and competitors.
ESPN's Winter X Games first debuted at Buttermilk Mountain in the Winter of 2002, and has been a January staple in Aspen Snowmass ever since. This year marks the 20th anniversary of X Games in Aspen. When X Games first came to town, there were around 40,000 spectators over the entire weekend. Local schools took the long weekend off, and students took field trips with their class to the competition venue at the base of Buttermilk Mountain. While the local kids aren't getting time off from school or busing to Buttermilk this year, X Games has evolved and the show will go on, just from the comfort of our homes, like many events this year. The Games normally command tens of thousands of fans daily, but not this year. Recent evolution in X Games programming include X Fest, a village of sponsors and vendors at the base of the Super Pipe, where we have hosted our Chris Klug Foundation booth in past years together with our volunteers. The biggest attraction, besides the competition, are the concerts at the base of Buttermilk. Past performances include The Chainsmokers, Rapper Lil Wayne, and DJ Calvin Harris. I joke that X games used to an action sports fest with a little music. The past years it became a weekend long concert with some action sports.
With what's happening in our world today, there will be no concerts or X Fest village this year. X Games 2021 is going back to the original attraction, and will entirely focus on the competition and the athletes. Shawn White, The Flying Tomato, is making his return to X Games this weekend along with Chloe Kim? Shaun White dazzled in X Games Snowboard Superpipe contests in years past by revolutionizing freestyle snowboarding, and wowing crowds in the process. Only 500 executives, producers, and event staff are allowed on the grounds, including about 100 athletes. With Canadian snowboarder Mark Morrison, the most decorated X Games athlete, out due to Covid-19, all eyes are on Aspen local freeskier Alex Ferreira who is going for his third consecutive X Games Gold Medal. Ferreira is not the only local skier to compete. Basalt native Torin Yater-Wallace first took the X Games stage in 2011 and has won four medals since. Good luck Torin and Alex. We will be cheering you both on this weekend!
Looking back on how the Winter X Games has evolved in Aspen Snowmass, it's easy to be amazed at the weekend-long event jam-packed with winter fun. X Games is celebrating 20 years in Aspen, and will definitely be a memorable anniversary. Here are a few reminders and tips to enjoy X Games safely this year.
The event is entirely closed to the public. Buttermilk Mountain will still operate during normal hours for skiers and riders during the day, and only the Terrain Park will be closed. Aspen Snowmass's College Pass is not a ticket option this year.
This year's events include skiing and snowboarding Superpipe, Big Air, and Slopestyle. All programming will be on ESPN and its sister networks. There will be 17 hours of X Games programing on each day throughout the weekend.
There will be no live concerts or X Fest village for Winter X Games 2021. Instead, fans are invited to attend Virtual X Fest. This is an immersive, interactive experience online. Basically, it's like a video game of the traditional X Fest, where one normally visits with sponsors and vendors to interact and even receive great swag. Did we mention Virtual X Fest is free?
Have a fun and safe X Games weekend! Remember, the best place to watch the competition and get in on the action is at home. No masks, no social distancing, and no cold feet from the comfort of your couch!