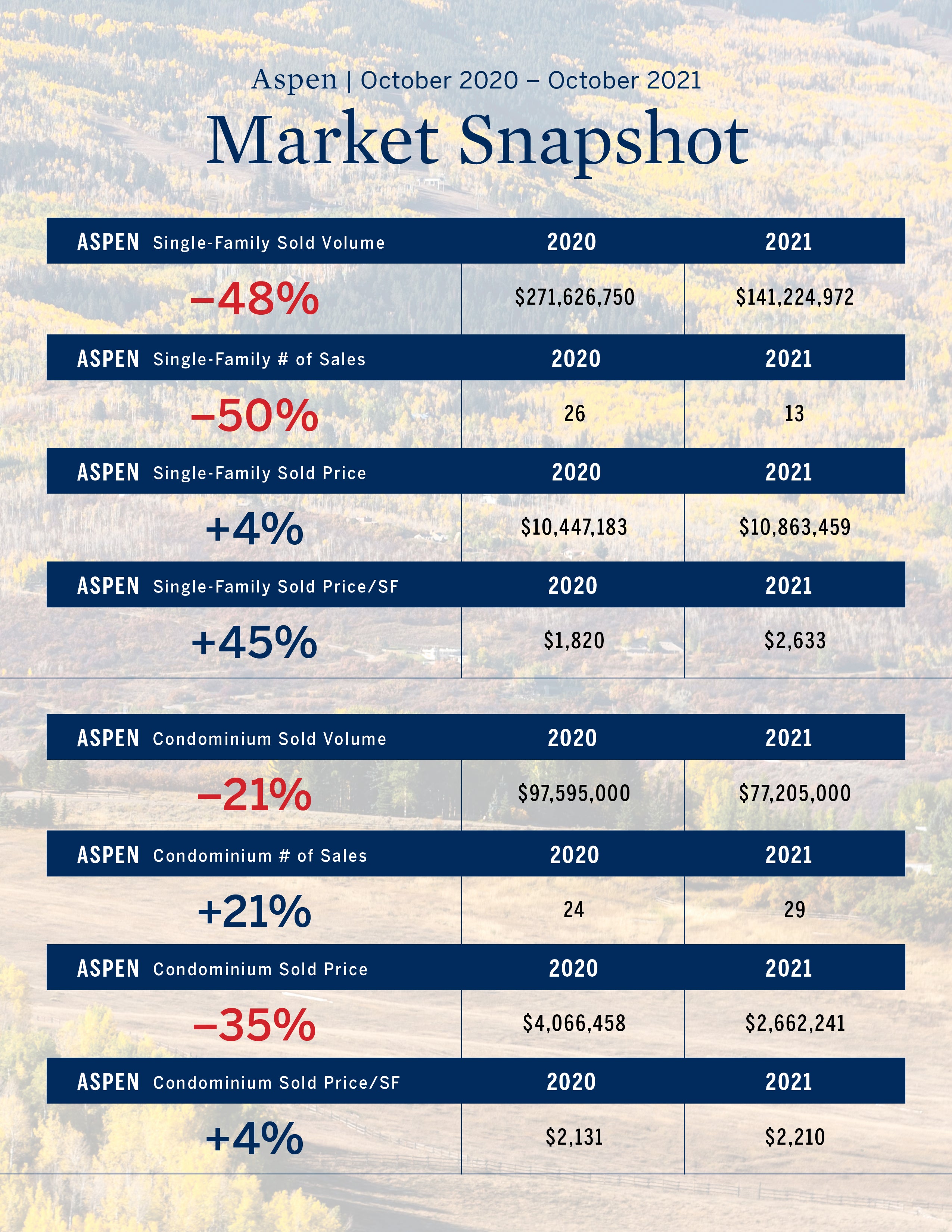 Aspen
11/12/2021
What's All the Buzz About "Low Inventory"?
If you are someone who has been paying even the slightest bit of attention to not just the Aspen Snowmass real estate market, but markets in general, you've probably heard the term "Low Inventory" get thrown around often. Aspen Snowmass has indeed been experiencing the reality of low listing inventory, more so than most markets, but just acknowledging this doesn't do us much good. Many factors on both sides of the equation can cause such inventory shortages. It is important to uncover which ones are at play and what they can tell us about where the market is and where it may go. However, predictions must always be taken with a grain of salt, as even the priviest data jockeys have trouble foreseeing the future.
First, let's talk stats. At this time last year, Aspen recorded exactly 50% more single family home sales than we've seen in 2021. Average sold price per square foot is up 45% from an average of $1,820 per sq. ft. to $2,633 per sq. ft. Days on market have dropped 20%-50% depending on location, price, and property type. Given just these statistics, one may assume that sellers would be coming out of the woodwork to take advantage of record-high prices with less competition on the market and short turnaround time, but these stats don't tell the whole story. Sellers have two major hesitancies when deciding to list or not: what if I sell early and miss out on more appreciation and where will I go?
To address the appreciation concern, a long-term view can be helpful to gain perspective. Since 2011, which was the low point in price per square foot in Aspen following the 2008-2009 housing crisis, we have seen 100% appreciation, which gives us an average of an 10% price increase per year. However, 26% of that has come in the last 20 months since COVID drove people to communities like Aspen Snowmass in pursuit of lifestyle changes. Some may argue that an average 10% yearly appreciation doesn't sound unsustainable since the cat is now out of the bag in terms of people seeing the true value in mountain communities like ours. We agree to an extent. Our perspective is that we are not soon going to see a huge downturn or "correction", but given the law of averages, we expect appreciation to level out a bit over the next 8-12 months. What are the implications of this prediction? More sellers will list their properties as they fear we are reaching the peak of this pricing spike, making the market a bit less seller-dominated than it has been and putting some negotiating power back into the hands of buyers. So, now may be a great time to get in front of buyers if you are a seller.
As for the "where will I go" concern, the possible solutions are a bit more muddled. It is true that there are very few communities out there that offer the activities, dining options, high quality schools, and many of the other amenities that make this area so special, not to mention the access. This understanding has become more widespread, and homeowners are putting their flags in the ground as to not miss out. Profiting off of a lateral move inside Aspen Snowmass at this time is extremely difficult unless the home being vacated is a uniquely special property. However, many people have found opportunities to benefit from this market by selling up-valley and moving down-valley, a growing trend in the Roaring Fork community. Down-valley homes haven't seen the amount of appreciation we have in Aspen Snowmass, increasing the buying power of up-valley sellers. Many people, in fact, are beginning to prefer the lifestyle that comes with being in towns like Basalt or Carbondale. Living costs are cheaper, dining/shopping options increase, and accessing other parts of the valley becomes easier while still being only 20-30 minutes away from the slopes. This is a highly desirable option for sellers looking to take advantage of the Aspen Snowmass market.
Regardless of where the market may go and why, we at Klug Properties keep our finger on the pulse of the market by studying it every day and providing our clients with the most up-to-date and accurate market knowledge. With over 26 years of combined real estate success and over $500 million in career sales, there is no better team to help you accomplish your real estate dreams. To continue the discussion on what this market is doing and how you can make it work for you, please do not hesitate to call or email me today. We look forward to connecting with you and sharing our passion for real estate in the Roaring Fork Valley and Living Aspen Snowmass!