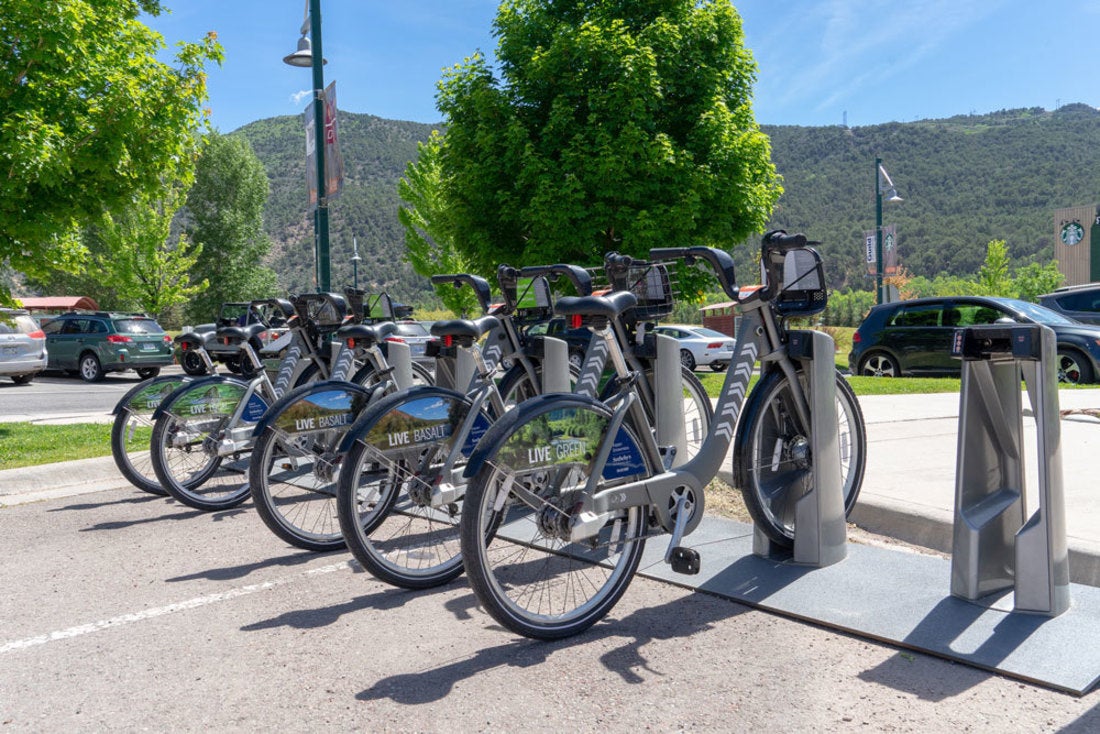 Lifestyle and Events
6/27/2018
WE-cycle Rides into Its Most Successful Season Yet
Aspen was the first-ever resort community in the country to adopt an official bike sharing system in 2013. Fast forward five years later and it's hard to imagine Aspen and Basalt without WE-cycle and its many docking stations around town.
And Aspen Snowmass Sotheby's International Realty has been along for the ride since the very beginning, supporting WE-cycle as its first corporate sponsor in a partnership that's now in its sixth season. This year marks another milestone for the non-profit organization: it's the first bike sharing program in the world to be completely free for all users (for rides 30 minutes or less).
Made possible from a $145,000 grant from the City of Aspen, $45,000 each from Eagle County and the Town of Basalt along with robust sponsor support, WE-cycle ridership has already soared since it's reopening on May 1— ridership is up 197 percent in Aspen and 44 percent in Basalt during the same time period last year according to director and founder, Mirte Mallory.
"Aspen Snowmass Sotheby's International Realty has been the most tremendous supporter from the very beginning. As our earliest adopters and believers, joining us as a system-wide sponsor has been transformative for what we've been able to accomplish at WE-cycle," says Mallory.
Inspired by the benefits she saw bike sharing create for cities like Paris and Amsterdam, the Aspen native wanted the same solution available in her hometown. "Although we are a small community, we still face a lot of big-city challenges—traffic, air quality and especially parking," she says. "Our hope is to continue to build on the bike culture that had already existed here and have both locals and visitors use WE-cycle as a viable transportation option."
She credits Aspen Snowmass Sotheby's International Realty co-owner Ernie Fyrwald's similar vision from having experienced bike share programs in cities he had visited over the years as the impetus for such a successful relationship. "He truly values the importance of supporting bike vitality and what it can do for a community's livability," says Mallory.
What started as a 12-station system in Aspen has since grown to more than 40 stations stocked with 190 bikes to work in conjunction with the Roaring Fork Transportation Authority (RFTA) bus system, plus the implementation of access in El Jebel, Willits and Basalt. Under Fyrwald's leadership, Aspen Snowmass Sotheby's International Realty has aligned with the program way beyond just putting branded panels on the back of WE-cycle's bikes. For many brokers, using the system is essential in their daily commutes and also in showing clients prospective properties around Aspen and Basalt.
"Doing most of my business in the downtown core and adjacent neighborhoods, WE-cycle has been a great way to get around. It's also a handy way to show clients a new neighborhood and how accessible it is," says Lex Tarumianz.

Chris Klug, a passionate pedaler both on and off the clock, explains, "I have toured downtown and the West End together with my clients on WE-cycle bikes … they absolutely love it. Not only does it help reduce cars on our roads and lessens the impact on our spectacular natural alpine environment, but it's also a far more efficient way to get around town during the busy summer months when you're in a hurry. Overall, it just further sets our community apart and makes Aspen and the Roaring Fork Valley such a special place."

For Craig Ward, WE-cycle has been on his "must-support" list since the inception of the program. "I am thrilled that it is now publicly supported, so the bikes are free throughout the community!" he says.

Although she often tours clients around on WE-cycle bikes, supporting bike sharing for Tory Thomas isn't just about "what it does for me and my business. What I love most about WE-cycle is what it does for our community and environment at large."

If you haven't already, sign-up for your free WE-cycle season pass and download the mobile app here: we-cycle.org.
Blog Credit to Katie Shapiro