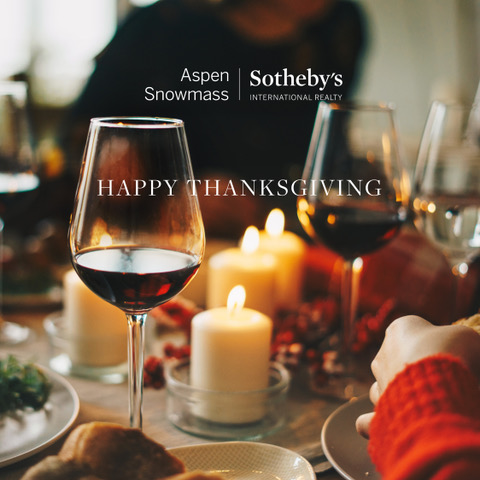 Lifestyle and Events
11/18/2022
Thanksgiving in Aspen: Where and What to Eat
Happy Thanksgiving from Klug Properties! Whether you are a full-time resident in the Aspen Snowmass area, a regular visitor, or this is your first time in this incredible valley; there are plenty of ways to dine this Thanksgiving holiday. Let us give you some ideas for how to spend your turkey day!
Dining Out
The quintessential Aspen Thanksgiving experience starts with spending opening day on Ajax Mountain with the other skiers and riders who have been eagerly awaiting the lifts spinning since April. After a day on the slopes, cooking a full Thanksgiving meal might seem like a lot. Don't worry, Ajax Tavern at the base of Ajax Mountain will be offering traditional Thanksgiving favorites including roasted organic turkey, mashed potatoes, stuffing, cranberry sauce, and all the classic trimmings, complete with pecan pie. Dinner will run from 5-9 pm and starts at $55+ per guest. For this experience, you don't even have to leave the mountain to get your Thanksgiving fix! Learn more > >
A few other restaurants are offering delicious Thanksgiving dining experiences such as Element 47, Prospect at Hotel Jerome, and Plato's at Aspen Meadows. Click the links below to learn more about these options.
Other fine-dining restaurants open on Thanksgiving include:
Betula Aspen
Casa D'Angelo
Casa Tua
Catch Steak
Clark's Oyster Bar
French Alpine Bistro
Kenichi
Las Montanas
Matsuhisa
Meat & Cheese
The Monarch
Velvet Buck
Dining In
If you'd like to enjoy Thanksgiving in the comfort of your own home without cooking, some of Aspen's best have you covered! Butchers Block is THE place to order your Thanksgiving turkey. You can also pick up cheeses and crackers for appetizers. Mawa's Kitchen allows you to pre-order your entire meal from the turkey down to the sides making for a seamless and easy dinner. Want to make your own Turkey and nothing else? Jour de Fete provides home-cooked sides along with their signature French desserts and American classics. However you decide to enjoy Thanksgiving this year, we hope your table is filled with loved ones, gratitude, and delicious eats. See you on the slopes!