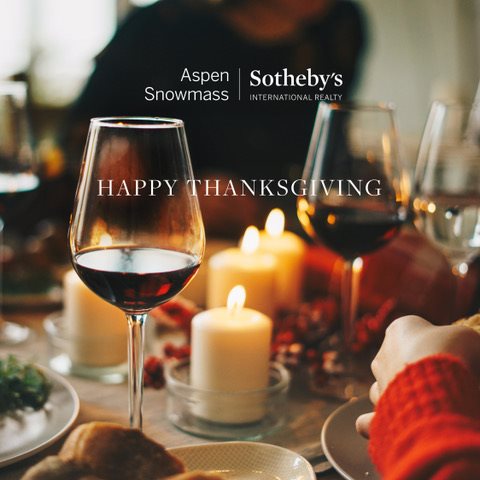 Lifestyle and Events
11/23/2021
Thanksgiving Dining and Happenings
Happy Thanksgiving from Klug Properties! Whether you are a full-time resident in the Aspen Snowmass area, a regular visitor, or if this is your first time in this incredible valley; there are plenty of ways to enjoy this Thanksgiving holiday. Let us give you some ideas for how to spend your turkey day!
The quintessential Aspen Thanksgiving experience has to start with spending opening day on Ajax Mountain with the other skiers and riders who has been eagerly awaiting the lifts turning again since they stopped last April. Opening day is an electric time to be on the mountain! Smiles spread ear to ear as we all can't help but feel like a child again doing the thing that caused most of us to move here. Conversations on the gondola are filled with gratitude and excitement, making it nearly impossible to be in a bad mood if you're out there. After a day on the slopes, cooking a full Thanksgiving meal might seem like a lot. Don't worry, Ajax Tavern at the base of Ajax Mountain will be offering traditional Thanksgiving favorites including roasted organic turkey, mashed potatoes, stuffing, cranberry sauce and all the classic trimmings, complete with pecan pie. Dinner will run from 5-9 pm and starts at $55+ per guest. For this experience, you don't even have to leave the mountain to get your Thanksgiving fix! Call 970.920.6334 for reservations.
For a similar experience in Snowmass, we recommend skiing or riding all day and enjoying a four-course Thanksgiving dinner at The Artisan in Snowmass Village. Seating starts at 4:30 pm and 6:30 pm in the upper dining room. For the bar area, seating starts at 5:30 pm & 7:30 pm. Pricing is $55 for adults and $20 for children under 12. Call 970.923.2427 for reservations.
If skiing isn't your thing, but fine Thanksgiving meals that you don't have to prepare are, you'll want to make a reservation at Element 47 in downtown Aspen. Here, you will enjoy a three-course dinner with festive favorites and gourmet twists on traditional Thanksgiving flavors. Enjoy your choice of soup or salad to start, turkey or crispy-skinned salmon for the main course, along with family-style sides and decadent dessert. Dinner is 3-9 pm, $150+ per guest with a $100 wine pairing option, $50+ per child. Call 855.920.4600 for reservations.
If you plan on having a more traditional at-home Thanksgiving, nightlife will be waiting for you if you don't find yourself in a turkey coma. Some of the locals' favorite spots will be happening into the late hours including Escobar, Eric's Bar, Public House, and Silver City Mountain Saloon if a western vibe is your style. Nightlife really starts to come alive at this time of year with the holiday season upon us.
Regardless of what you choose to do this Thanksgiving, we at Klug Properties wish you and your family the happiest of times and most delicious meals. We hope to see you on the slopes and in town as the snow keeps falling!