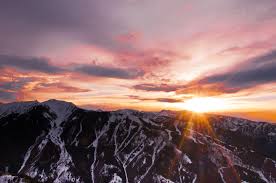 Snow
3/19/2021
Sunset Skiing in Aspen Snowmass
Happy Friday from Aspen Snowmass! After a long awaited storm this past weekend, the conditions at Aspen Snowmass are phenomenal across all four mountains. With a fresh 19 inches over two days, and more to come in next week's forecast, the spring season is shaping up very nicely. It is so nice that Aspen Skiing Company announced earlier this week that Snowmass Mountain will extend its season by one week and closing day will be held on Sunday, April 25th. Aspen Highlands and Buttermilk will host their last day of the season on Sunday, April 4th. Aspen Mountain's season will end on Sunday, April 18th, as scheduled. With all of the extra sunshine later in the day, select lifts at all four mountains are spinning until four in the afternoon, everyday. Sunset Skiing and Riding is a much anticipated spring event in Aspen Snowmass. This past week, Buttermilk ran their lifts until 6pm on Monday and Aspen Highlands' lifts spun until 6pm on Wednesday, in honor of St. Patrick's Day. If you missed out on this fun event, not to worry. Aspen Mountain will host Sunset Skiing and Riding on Friday, March 26th and Friday, April 2nd. The Silver Queen Gondola will run until 6pm. The Sundeck will host live music and offer drink and food specials during Sunset Skiing, as well. Snowmass Mountain is slated to host Sunset Skiing and Riding during its extended season; dates to be determined and announced in the near future. For more information, head over to aspensnowmass.com/events
If you missed last week's FIS Freeski and Snowboard World Championships at Buttermilk Mountain, you're in for a treat. Land Rover US Grand Prix, an Olympic qualifier event, starts this week and continues through the weekend. The venue at Buttermilk Mountain hasn't changed much, nor has the competition. The only difference between the FIS Championships and Grand Prix? There will no Big Air contests in the Grand Prix this weekend. Finals for Freeski and Snowboard Halfpipe and Slopestyle are Saturday, March 20th and Sunday, March 21st. Just like Winter X-Games, and FIS World Championships, spectators are not allowed at the event. The best view of this weekend's contests will be from YouTube, or from the Summit Express Chair as you ski and/or ride Buttermilk.
The 21st Annual Bud Light Spring Jam returns to Aspen Snowmass. Events include downtown concerts, on-mountain music, and a week of friendly competitions. One of our favorite events is back for the fifth year in row, Helly Hansen's Four Mountain Mission. Teams compete in a four mountain scavenger hunt over a 10-day period following clues on a mobile phone app. For more information, head over to aspensnowmass.com
Have a great weekend! Enjoy the amazing snow conditions and spring weather! Happy Trails!