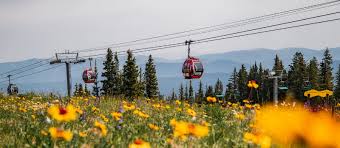 Lifestyle and Events
6/12/2020
Summer Start in Aspen Snowmass
Happy Friday from Aspen Snowmass! What a beautiful summer day we are having here. It certainly is quite the difference from earlier this week. We received about five inches of fresh snow on Monday night. Everything has melted away, and the trees are now super lush throughout the valley. The Food and Wine Classic is typically the start to summer in Aspen, but this year with the pandemic, The Silver Queen Gondola opening for summer activities feels like the official start to summer.
Aspen Mountain opens for summer service today, Friday June 12th beginning at 10am until 4pm. Passengers are required to wear masks upon entering and exiting the gondola. Lift tickets are also required. The Sundeck restaurant is open for summer dining service, with food and drinks specials Friday through Sunday. For more information, please visit www.aspensnowmass.com

The Elk Camp Gondola in Snowmass is opening for summer service next week, June 21st. This service runs through September. Snowmass summer operations offer bike trails, hiking trails, the Alpine Coaster, The Lost Forest, ropes course, climbing wall, Elk Camp restaurant, and amazing views, of course. Check out the farm-to-table dinners on Tuesday nights. Check out www.aspensnowmass.com/snowmass for all of the summer offerings in Snowmass Village.

Summer in Aspen is definitely different this year without music. With Jazz Aspen Snowmass and Aspen Music Festival being cancelled, it may feel like a quiet summer in town. Luckily, Aspen Skiing Company is hoping to bring back Bluegrass Sundays at the Sundeck upon completion of construction, and as public health orders allow. For updates, check back in with our blog or www.aspensnowmass.com.

Have a great weekend, and happy summer! Stay healthy!