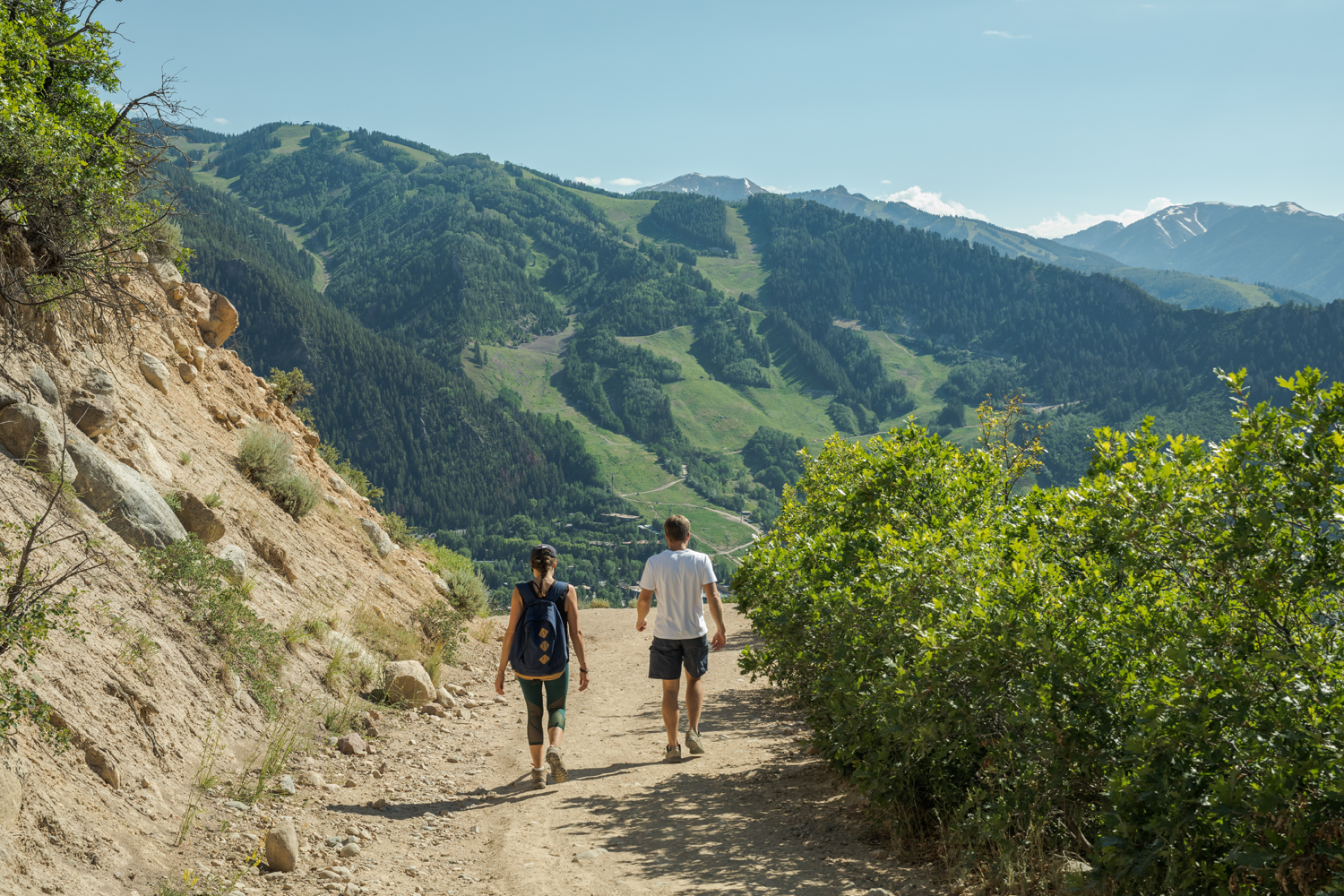 Bike and Hike
4/1/2022
Spring is Here and Hiking with It - Be Sure to Choose the Right Hike for You and Your Family
For decades, adventurers from all walks of life have sought out Aspen and the Roaring Fork Valley for being the hiker's paradise that it is. Whether it's the expert only multi-night trek across the Four Pass Loop or a paved path for beginners, the scenery through fields of wildflowers, across rushing streams or deep into a dense forest will stay with you forever. You can find endless options for day hikes and backpacking trips surrounding Aspen. Use this blog as a way of determining the best day hikes in town from some of our most sought-after trails, starting from easiest to hardest.
Easy Trails
Rio Grande Trail: Elevation: 7,700 ft. – 7,900 ft.
This is both a hiking and biking trail. The trail starts behind the Post Office on Puppy Smith Road. The first two miles of the trail are paved and then becomes a dirt trail after crossing Cemetery Lane. Very flat with no steep grades.
Hunter Creek Trail: Elevation: 8,900 ft. – 10,400 ft.
The trail begins just east of the apartments on Lone Pine Road or directly off the Rio Grande Trail extension. This is a gradual uphill climb along Hunter Creek towards Hunter Valley. To access the upper trail, drive north on Mill Street, veer left onto Red Mountain Road and follow for 1.1 miles to Hunter Creek Road. Turn right onto Hunter Road and follow the signs to the parking lot. Upper portions of the trail pass through alpine meadows scattered with several abandoned homestead cabins.
Smuggler Trail: Elevation: 8,000 ft. – 8,800 ft.
This trailhead accesses Smuggler Mountain Road, one of the most popular recreation areas in the immediate Aspen vicinity. Any spring, summer or fall afternoon, Smuggler Mountain Road is busy with Aspenites hiking, running, mountain biking or walking their dogs. Smuggler Road provides a short (1-1/2 mile) workout with great views of Aspen from the look-out point, which makes it very popular. You can access the Hunter Creek Trail or Continue to Warren Lakes.
Moderate Trail
Sunnyside Trail: Elevation: 8,000 ft. – 10,000 ft.
The first part of the trail contains a series of switchbacks through sagebrush and scrub oak. About 1 mile along the trail, you will cross a driveway then continue to Red Mountain. The trail finally joins with the Hunter Creek Trail in the Hunter Creek Valley. As there are many spurs that can lead to one getting lost, a topographical map is recommended.
Difficult Trails
Ute Trail: Elevation: 8,000 ft. – 9,000 ft.
The trail starts close to town on Ute Avenue. The sign for the trail is approximately 0.4 miles up Ute Avenue on the right if you are headed east. It is steady uphill with switchbacks, 0.9 miles and 1,000 vertical feet to a rock outcropping. The view of Aspen from the rock outcropping is spectacular. A mile long aerobic workout.

Red Butte Trail: Elevation: 7,900 ft. – 8,400 ft.
This trail is accessed off Cemetery Lane and is a quick but difficult trail with amazing views. Some parts feel more like rock climbing than hiking, so be prepared for narrow, steep and rocky portions of the trail.