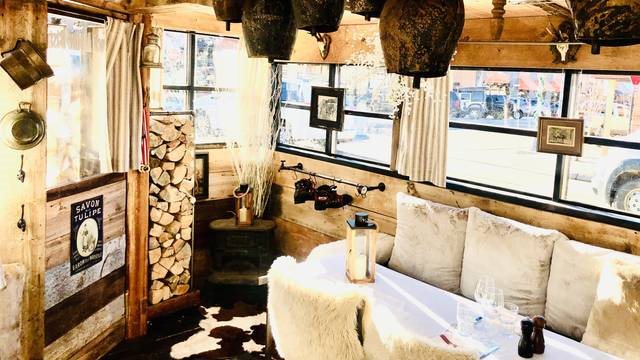 Food And Wine
2/19/2021
Outdoor Dining in Aspen Snowmass
Happy Friday from Aspen Snowmass! In the last 10 days, snow just doesn't seem to ever stop coming down, and more is in the forecast this weekend! The conditions across all four mountains are spectacular, and the lifts are spinning later into the afternoon. Spring feels like its just around the corner! Pitkin County, and the entire State of Colorado, is officially in the yellow zone of the Covid-19 Dial. This allows indoor dining at 50% capacity, as well as retail, offices, and personal services. Some consider outdoor dining a safer option, and there are plenty of options in Aspen and Snowmass Village for fantastic dining experience outdoors. Read on for some of our favorites!
Outdoor dining is a must in the summer in Aspen, but essentially disappears come ski season. During these unprecedented times, local restaurants have become creative in constructing fashionable are safe outdoor dining areas. Be sure to check out French Alpine Bistro, on Hopkins Avenue. Their fondue and crepes are to-die-for, and the outdoor dining feels like a true extension of the cozy and romantic restaurant. The Prospect at the famous Hotel Jerome offers an incredible winter dining experience with decked out bubbles, dressed to classic Aspen perfection. The Prospect updates their menu seasonally, and its always delectable. Bubbles are popping up all over town, and on the mountain! If you want to enjoy Bonnie's deck in the cold and snow, or even on a sunny day, there are bubbles to enjoy the famous oatmeal pancakes in your own dining pod. Don't forget the apple strudel!
If you're looking for a more casual dining experience, family-friendly atmosphere, and awesome views, Snowmass Village has great outdoor dining options for you and the whole family! Venga Venga on the Snowmass Mall is a village staple. Enjoy Mexican food, adult beverages, and a huge outdoor patio with headlamps, festive lighting, and fire pits. During the day, watch skiers and riders descend Fanny Hill. By night, enjoy snow cats groom the hill. Another great spot for heated outdoor dining is Base Camp Bar and Grill, right at the base of Snowmass Mountain. This ideally located restaurant is in the heart of Snowmass Base Village, and is the place to be for regular après, special concerts, and daily Snowmass S'Mores!
Outdoor dining will become better and better as the spring ski days start to heat up, and the sun shines longer. When dining in public, be sure to wear your mask when not seated, stay socially distanced, and be prepared to take temperature checks at the restaurants. Let us know which outdoor dining has the best experience. Have a great weekend ahead! Keep snow dancing!