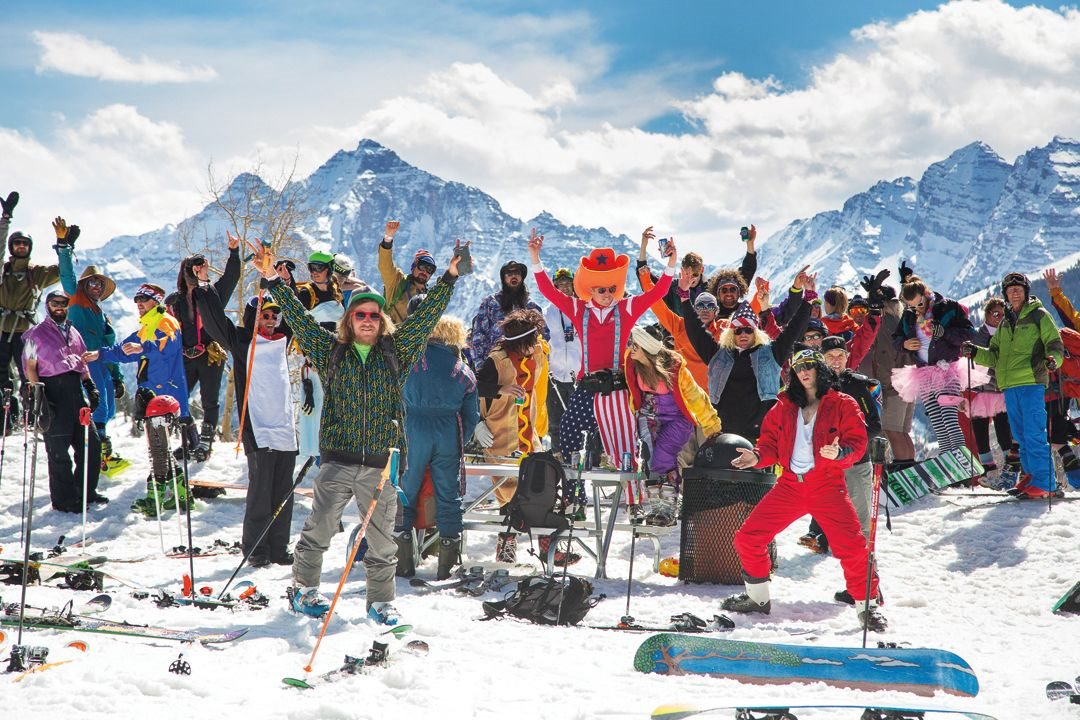 Aspen
4/8/2022
Navigating All Four Closing Days in Aspen Snowmass
Closing day weekends are always a bittersweet transition from winter to spring as we look back and celebrate a ski season well-spent. With four mountains all throwing their own farewell parties there is no shortage of festivities to enjoy. The lifts might be stopping, but the ski and après cultures stay alive and well throughout April. Use this post as a guide to pick which closing day festivities you and your family/friends should attend. Maybe it's all four!
Buttermilk Closing Day – April 3, 2022
If a family friendly day full of enough bacon to hold you over until next ski season sounds like your speed, you won't want to miss Buttermilk's closing day. Buttermilk likes to celebrate Bacon Appreciation Day by having savory, salty and sweet snacks all over the mountain from the Cliffhouse down to Bumps, almost all of them including bacon! They also host an uphill race starting at 8am if you feel like you need to earn not just your turns but also your bacon. Buttermilk is always the first mountain to close.
Highlands Closing Day – April 10, 2022
Undoubtedly the most popular of the closing day ceremonies. Highlands closing day is a must-go for those wishing to send winter off like a true Aspen local. Start the day by hiking the bowl one last time to be met by ski patrollers barbecuing at the top. After enjoying a hotdog and a bowl lap, head over to Cloud Nine where you can say goodbye to the hottest après scene in Colorado until next season. On your way down from Cloud Nine, stop by 'Picnic Point' just below the Cloud Nine lift where plenty of skiers/riders enjoy camaraderie and the views towards Pyramid Peak and Maroon Bells. Finally, and most notably, make your way to the Alehouse at the base to dance the winter away at one of the most iconic annual parties in Aspen. This portion of Highlands closing day is recommended for those 21 and up as the scene always gets rowdy with a live DJ and drinks all around. Be sure to where a costume! This year is 80's themed and awards will be given to those sporting the best get-ups.
Snowmass Closing Day – April 17, 2022
Originally, Snowmass and Aspen Mountain were both set to close on April 17th, but with the late snowfall in March, Aspen Mountain will be staying open a week later than planned meaning you can attend both Snowmass and Ajax closing parties. What a treat! Snowmass will be hosting events all weekend from Elk Camp down to Base Village. You'll be able to enjoy snow volleyball, DJ's all over the mountain and a swimwear themed top-to-bottom run to close out the day on the 17th. The whole family can enjoy closing weekend at Snowmass!
Ajax Closing Day – April 24, 2022
As previously mentioned, and thanks to the extra snowfall this spring, Aspen Mountain will be closing on the 24th, one week later than planned. Hooray for an extra week of skiing! If you want to close out your season in the most 'Aspen' way possible, you must attend the Ajax closing party at the birthplace of Aspen skiing. Don't miss the hilarious and sometimes dangerous "Bump Off" as locals gather at Ridge of Bell at 1 pm for an all-out race down the mogul field under the gondola. You can either join in on the race yourself or watch from Gent's Ridge as skiers/riders hurl themselves down the bumps. Some make it, some yard sale trying – either way it is a spectacle to behold! DJ's will be present at the Sundeck and at both Chica's and Ajax Tavern at the base. Don't throw away your costumes from Highlands, as there will be a contest at the Sundeck as well.
If you manage to make it to all four closing parties, good for you! A small percentage of locals have the stamina to do so. However you choose to celebrate the mountains closing, we hope you have a blast and stay safe doing so. Here's to a great summer ahead!