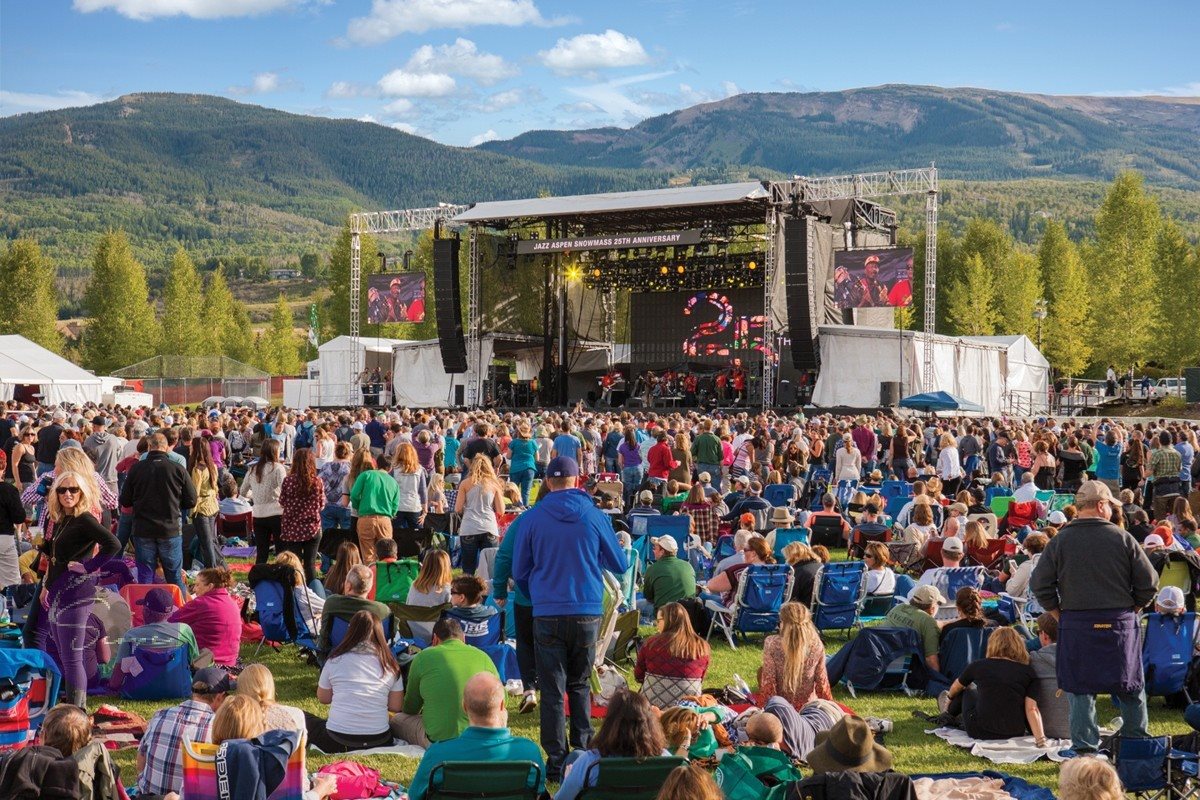 Lifestyle and Events
6/4/2021
Live Music in Summer 2021 at Aspen Snowmass: UPDATED!
Happy Friday from Aspen Snowmass! Summer is here in the mountains, despite what the calendar might say. Masks ordinances and social distancing requirements have been lifted in Aspen and all of Pitkin County, as of yesterday. Just like all of the weekly changes in health ordinances, the local live music scene has evolved drastically since our last blogpost about live music this summer in Aspen Snowmass. Read on for everything you need to know, with the most recent updates, in local live music!
Weekly live music events will start to happen as soon as next week— yahoo! Snowmass announced in February that there will be no Thursday Night Concert Series this summer due to Covid-19 concerns. However, this decision has been reverted. Snowmass Thursday Night Concert Series will start on Thursday, June 10th and happen every Thursday through August 26th with a Fourth of July bonus concert. The Fanny Hill venue will open at 5:30pm and the shows begin at 6:30pm. Bring a picnic setup, and be sure to support the local food and beverage vendors inside the concert grounds. For lineups, head over to gosnowmass.com.
The Belly Up has been announcing concert dates starting as soon as the end of June. Latest musical acts to adorn the Belly Up calendar include Kygo on the Fourth of July, Eli Young Band, Fisher, Leann Rimes, and local favorite Big Wild. Belly Up will open at 100% capacity with no mask restrictions. However, 80% of the crowd must prove to be fully vaccinated. The other 20% must show a proof of negative Covid-19 test within 72 hours of the show. For the most up to date announcements on Belly Up's concert scheduling, head over to their website bellyupaspen.com or check out their social media @bellyupaspen. Be sure to sign up for their newsletters for the best ticket options.
Jazz Aspen Snowmass's June Experience is back for 2021. This year's event will be held from June 24th through June 27th at various locations in downtown Aspen, including The Little Nell, Hotel Jerome, Belly Up, and Here House at Local Coffee. VIP Passes and General Admission Passes are currently sold out due to capacity restrictions. Singe admission tickets are still available at jazzaspensnowmass.org. Do not miss out on this event! There will be 18 performers, including The Family Stone, George Porter Jr., The Motet, and Juanito Pascual. Like Belly Up, there will be no mask guidelines. JAS June Experience is one of the summer kickoffs in Aspen for 2021.
Labor Day Weekend is the traditional end of summer, and a fabulous weekend of Live Music in Snowmass Village. Jazz Aspen Snowmass hosts their Labor Day Festival in Snowmass's Town Park for the entire weekend. The event was cancelled in 2020 due to the ongoing pandemic, but all of the musical acts booked for that year committed to performing in 2021. These acts include the one and only Stevie Nicks, Kings of Leon, Eric Church, and Maren Morris. There will be two more acts announced later this summer. Tickets from 2020 will be honored in 2021, but there are still available at axs.com/jasaspen. This is one of our favorite events of the year, so do not miss out!
Have a great weekend! We can't wait to see you all this summer, and hope to see you at the first Thursday Night Concert on Fanny Hill next week!