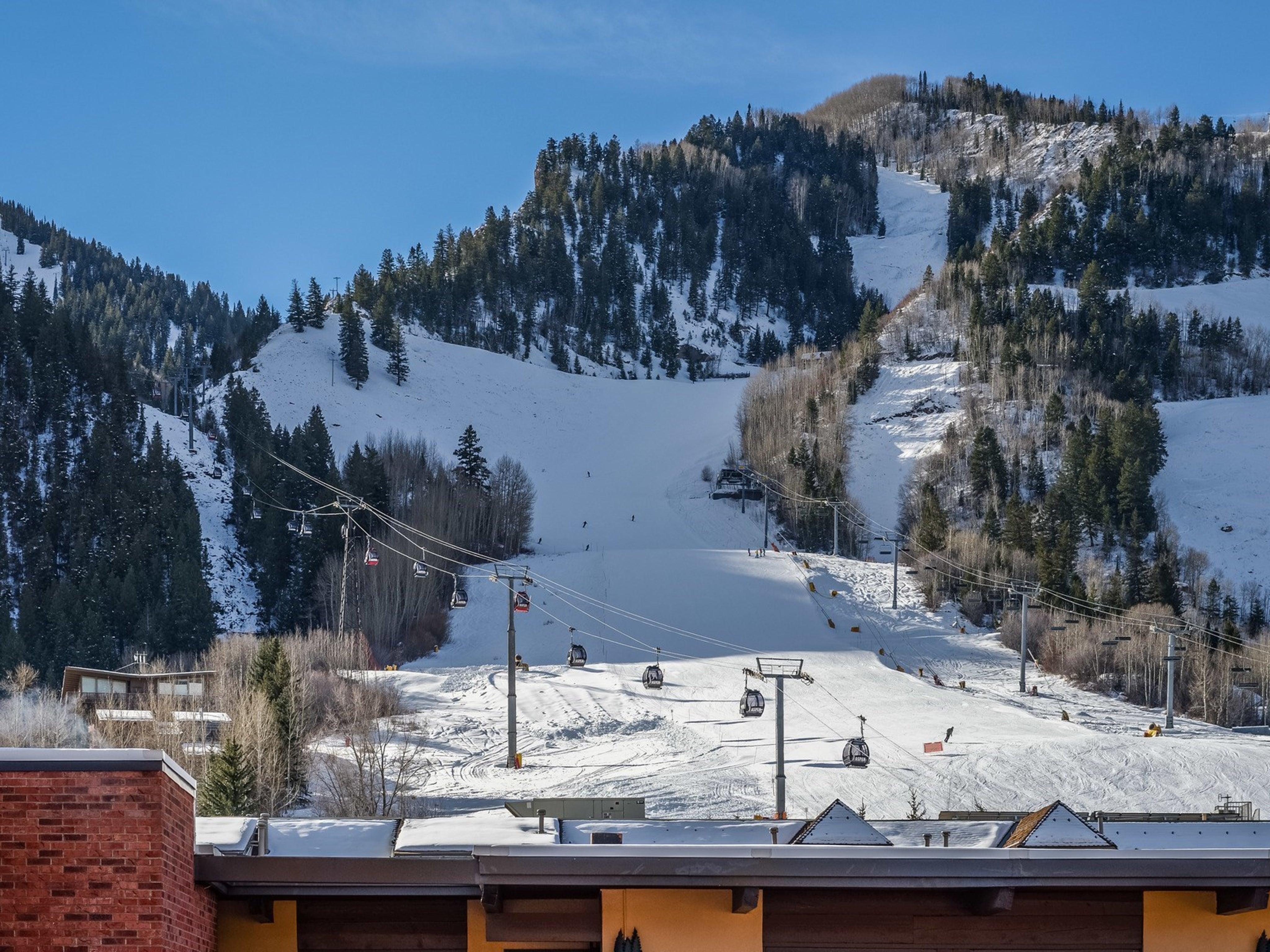 Real Estate
4/1/2016
Klug Properties 1st Quarter 2016 Market Report
Happy springtime! It has been a fun winter season in Aspen, and it's not yet over. Aspen Skiing Company announced today that Aspen Highlands will remain open for two more weekends, April 23 & 24 and April 30 & May 1. Don't miss Aspen Highlands official closing party on Sunday April 10; end of the season apres ski doesn't get better! Aspen Mountain closes for the season on Sunday, April 17. We've had about five inches of new snow the past 24 hours, and over a foot the last week. A strong El Nino finish to the season should make for some fun spring skiing ahead. There're some great lodging deals starting next week; April is a fun time to be in Aspen Snowmass.
I want to provide you with an Aspen Snowmass market analysis for first quarter 2016. It has been a slow start to 2016. There are a number of macroeconomic factors that are affecting our market including the strength of the US Dollar and the impact that is having on our international guests, particularly for Australian and Brazilian buyers. Australian visitors numbers were down about 25% this winter in January and February. The unease of the stock market in 2016, even though it bounced back strong the last month, and seems to be stabilizing, has given buyers pause, not to mention the softening New York City real estate market. The Presidential election is not helping things either. The price of oil has put our Texan buyers on the sideline so far in 2016 as well. All that being said this is still Aspen, one of the greatest places on earth and that hasn't changed.
Overall sold volume in Aspen is down from $220,593,500 first quarter 2015 to $101,209,955, a 54% decrease. Aspen Condo sold volume is also down from $96,251,000 first quarter 2015 compared to $50,844,500, a 47% decrease. Single-family volume is slightly up in Snowmass, while Snowmass condos are down by more than half. Basalt single-family homes and condos are both up first quarter 2016 versus first quarter 2015. Average sold price for Aspen condos was $2,601,378 in Q1 2015 versus $1,815,875 in Q1 2016, a 30% decrease. Interestingly we're at nearly the same average sold price as 2007 for Aspen condos, which was our biggest year on record. Average sold price per sq. ft. in Aspen increased from $1,130 in first quarter 2015 to $1,334 in first quarter 2016, a 15% increase, which is well above 2007 price per sq. ft. average for Aspen condos.
The downtown core saw a slight increase in the number of transactions from 23 sold properties Q1 2016 compared to 22 in Q1 2015. Average sold price was down from $3,872,091 Q1 2015 to $2,121,174 Q1 2016. Average sold price per sq. ft. in the downtown core was virtually the same at $1,458 Q1 2016, two dollars less than Q1 2015. Average days on the market actually went down for the downtown core from 260 days Q1 2015 to 212 days Q1 2016. The downtown core remains one of the hottest segments of our market with the second highest average sold price per sq. ft., just behind Red Mountain, which traded on average at $1,666 sold price per sq. ft. in Q1 2016, compared to $1,177 last year.
Snowmass condos average sold price is also down from $1,284,738 million in first quarter 2015 to $940,875 first quarter 2016. Sold volume of condos in Snowmass decreased from $34.6 million to 15.9 million first quarter 2015 versus first quarter 2016, a 54% decrease. Average sold price per sq. ft is also down in first quarter 2016 from $775 in 2015 to $612. Single-family Snowmass homes fared better with sold volume increasing with some big Edgewood Ln. sales with another one to come. Sold volume increased from 30.3 million in Q1'15 to 35.4 million in Q1'16. Average sold price went down from 5 million to 3.9 million, with average sold price per sq. ft. also decreasing from $983 in Q1'15 to $945 in Q1'16.
Inventory of condos, single-family homes, and vacant land have all increased in Aspen from 285 actively listed properties as of March 31, 2015, to 399 properties on March 31, 2016, a 28% increase over Q1 2015. Snowmass Village is about the same from 266 active listings of all property types versus 254 as of March 31, 2015. Basalt listing inventory is exactly the same with 138 active listing of all property type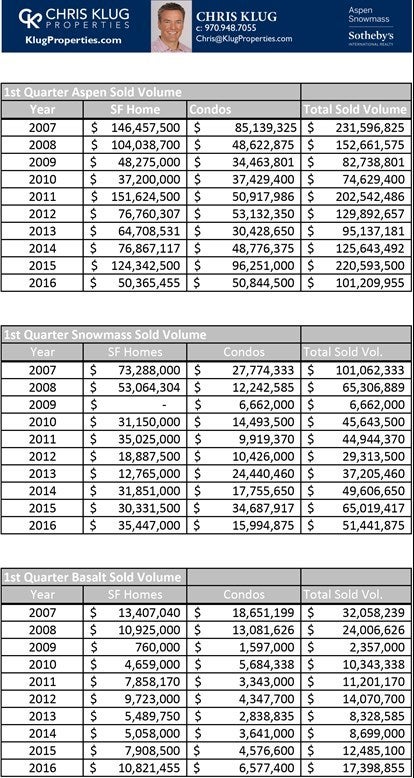 Pending sales are down in Aspen from $202,665,999 as of March 31, 2015, to $120,514,152 as of March 31, 2016. Snowmass is right on track with last March 31, 2016, with 39.2 million last March 31 compared to 38.1 million this March. Basalt pending sales are down from 17.77 million last March 31, 2015, to 11 million this quarter.
I hope my analysis is helpful to you. Please call or email anytime with questions. I am happy to provide a free valuation of your property. Having lived her most of my life, I am an expert on the Aspen Snowmass condo and single-family home market. This is not a hobby for me. I believe the off-season is the opportunity season, as things slow down before the busy summer selling season resumes with the Food & Wine Classic June 17-19, 2016. I know where the best values are today. Enjoy your weekend. Happy springtime!
Chris Klug