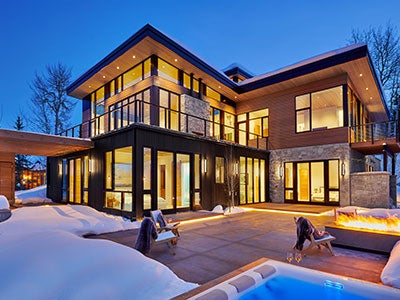 Real Estate
1/20/2023
Is now a good time to buy?
The question, "Is now a good time to buy," can have many answers depending on the specific market in question, interest rates, inventory, days on market and absorption rates, buyer's timeline and goals, continued supply-chain issues related to improvements, individual seller urgency, and overall buyer preference and needs. Over the last almost three years, we all know it has been a tough market for buyers with record-breaking sale prices and minimal days on market, or selling before MLS, and historically low inventories. Currently, the pendulum is swinging from an extreme seller's market in the last two and a half years slightly in the direction of buyers, but it isn't yet a buyer's market. What has caused this pendulum shift and will it continue?
When we compare 2022 to 2021, transactions decreased by 50%, dollar volume decreased by about a third depending on the Aspen Snowmass neighborhood, yet we still had the 3rd strongest year in the upper Roaring Fork Valley in terms of sold volume and record-breaking sold prices and sold price per sq. ft. across the board for Aspen and Snowmass condos and single-family homes. The story told here is one of less transactions, less volume, and higher prices! This narrative alone sounds like it is still not an ideal time to buy, and it might not be, but that's just half of the story. Inventory in the upper valley has more than doubled from Q4 of 2021 at 135 listings of all whole ownership, free market property types from Aspen to Old Snowmass to 320 listings in Q4'22. This has started to put some pricing pressure on sellers if they want to sell sooner - with a few more choices for buyers today, especially for properties that have been sitting and accruing additional days on market. We've also seen interest rates more than double from around 3% in 2021 to over 6% currently depending on the product with the Fed continuing to raise rates. While this does decrease buying power for buyers wishing to finance a purchase, it may give buyers a little leverage to negotiate a better purchase price, again depending on the neighborhood and type of product i.e., new versus old. It is also a reminder to sellers that their buyer pool may be shrinking and gives cash buyers a significant advantage.
We recently spoke with several local mortgage lenders and financial advisors with Merrill Lynch, FirstBank, Wells Fargo and First Western Trust. Their take was if you see a home that fits your needs perfectly and you have long-term ownership aspirations, buy it now because 1) there are only so many homes in our valley, 2) the upper valley has one of the strongest histories of appreciation compared to any market in the U.S., and 3) they predicted interest rates to come down halfway through 2024 allowing buyers to refinance. They also encouraged ARM's at least in the short term. So, if you can make it through a year of higher interest rates, now might be a good time to buy with inventory on the rise – and while buyer competition is less than what it will be when the rates actually come back down.
For homes currently listed that might not check all the boxes buyers are looking for i.e., new contemporary product with great access, outdoor living areas and open concept living with big views, walkability and convenience, there may be opportunity. Value can be found today in projects further from the downtown core. The pandemic-fueled appreciation of the past two years isn't sustainable long-term. Most properties in the upper valley have doubled in value in the last 3-5 years. Now might be a great time to present an offer on properties that are sitting rather than selling. With the supply chain still struggling and a continued tight labor market, not to mention higher material costs, older homes in need of updating are having to decrease their prices as buyers are less willing to take on the brain damage of a project. If you're patient or have an answer to constrained supply and labor, again there is opportunity.
So, what does the big picture tell us?
1) Buyers have more leverage than they did a year ago, but it is still a seller's market.
2) Higher interest rates currently if you're considering financing, but seems likely they will come back down sometime next year, so might make sense to explore ARM's in the short term.
3) Sellers understand that with rising inventory and interest rates, older properties that don't check all the boxes will need to price accordingly and adjust quickly if not selling.
4) Inventory is on the rise, but is still about half of where it was pre-pandemic in 2019.
5) Never a better time to be in Aspen Snowmass if quality of life, access to nature and the outdoors, numerous recreational opportunities, cultural amenities and culinary delights are a priority. This is one of the great places on earth. As Warren Miller says, "If you don't do it this year, you will be one year older when you do."
6) Short-term rental restrictions are making the flexibility of owning even more attractive