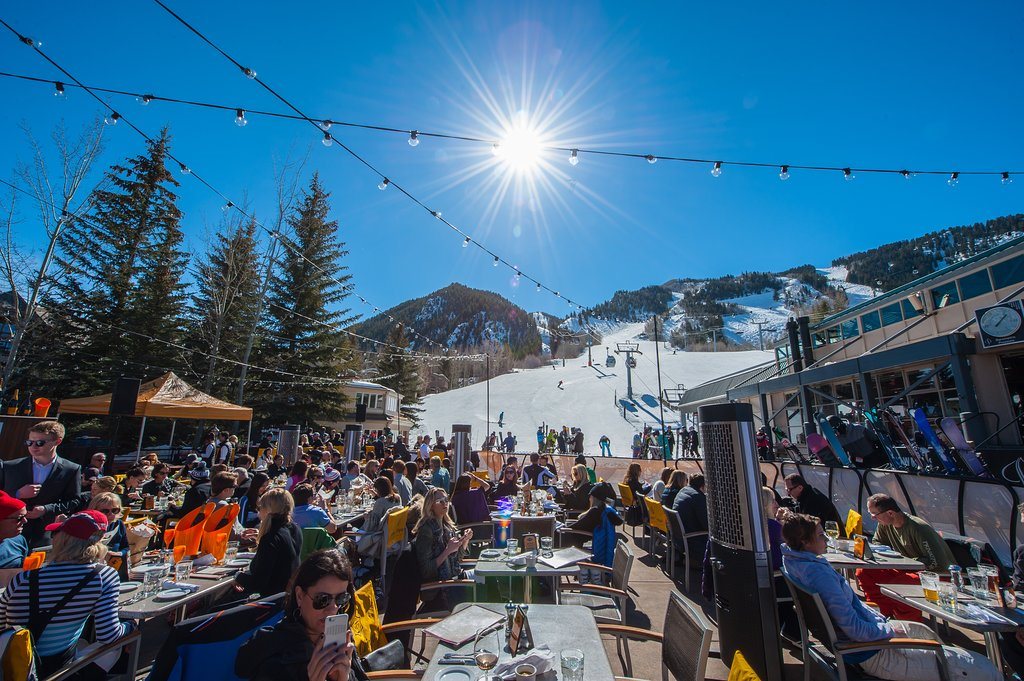 Lifestyle and Events
1/28/2022
Hot Spots for Après in Aspen
If skiing is the first thing Aspen is known for, the second would certainly be the après ski and culinary scene. For some, après is of the utmost importance and a ski day is incomplete without it. It isn't uncommon for locals and tourists alike to take a lap or two just to say they skied to have an excuse to take part. No judgement from us, though! With the array of options available in Aspen Snowmass, après is a must. Especially on a blue bird day. Keep reading for some of our top picks for enjoying a beverage and/or meal after a day on the slopes.
For The Energy
For those with energy left over from the slopes, a few places come to mind if you are looking to dance, mingle and be merry. Chica Aspen, just steps from the legendary Silver Queen Gondola, is always a high-energy, indoor/outdoor venue to carry over the good vibes from the mountain. On sunny days, they have a DJ stationed by the outside bar, where dancing might as well be a requirement for entry. We recommend their Hotty Toddy on colder days and a crisp Colorado Native beer on warmer days. Chica also has an incredible food menu featuring Peruvian inspired cuisine from celebrity chef Lorena Garcia, and although it is relatively new, Chica is already making a name for itself as an Aspen staple.
The Highlands Alehouse is another great spot for those looking to keep the energy high. With a wide assortment of beers, delicious food (you have to try the fried Oreos) and typically a younger crowd, the Alehouse is a well-trafficked après destination. If you are on Highlands and want an even higher-energy experience, try Cloud 9 on the mountain. What starts as a gourmet meal for the early Noon seating, soon turns into a proper Euro style champagne spraying, table dancing après party around 3 pm. Cloud 9 is one of the most iconic restaurants in Aspen and worth a reservation if you haven't been.
For The Atmosphere
If sophisticated and chic speak more to your ideal après experience, you will want to frequent The Wine Bar at Little Nell, French Alpine Bistro and J-Bar at Hotel Jerome. New this season, The Wine Bar features an intimate seating area with an extensive list of wines to satisfy even the pickiest oenophile. French Alpine Bistro offers a refined après experience, serving up delicacies in a chalet setting. Enjoy hand-made cocktails, raclette and fondue for a European take on your typical après scene. Lastly, the J-Bar at Hotel Jerome is an iconic bar to enjoy vintage cocktails in a western setting. The history runs deep in this hotel as cowboys, miners, and Hunter S. Thompson used to regularly gather for drinks.
For The Food
While the places mentioned above all have incredible food, there are two après go-to's that simply can't be beat in the culinary field. If you ask a group of locals what the best après meal in town is, the majority will respond with the burger and truffle fries at Ajax Tavern. You simply will not find a more satisfying burger to replenish those calories burned on the slopes. The prime, sun-drenched location at the base of Ajax is the cherry on top!
If you are skiing Snowmass, you'll want to try Aurum at Base Village. Every item on the menu is worth trying and the best part is they have some of the best happy hour prices in the Aspen Snowmass area! Sam's Restaurant is some of the best Italian in the Roaring Fork Valley, but plan ahead as it is popular. The deck in springtime is a great outdoor venue as well.
Après is a massive part of the Aspen Snowmass ski culture! We hope this post helps you navigate it in a way that makes the most sense for you and your family/friends to have the greatest time on and off the mountain. As always, don't hesitate to reach out for more recommendations or any real estate questions. This market is crazy right now, we can help you understand it! Happy après skiing!