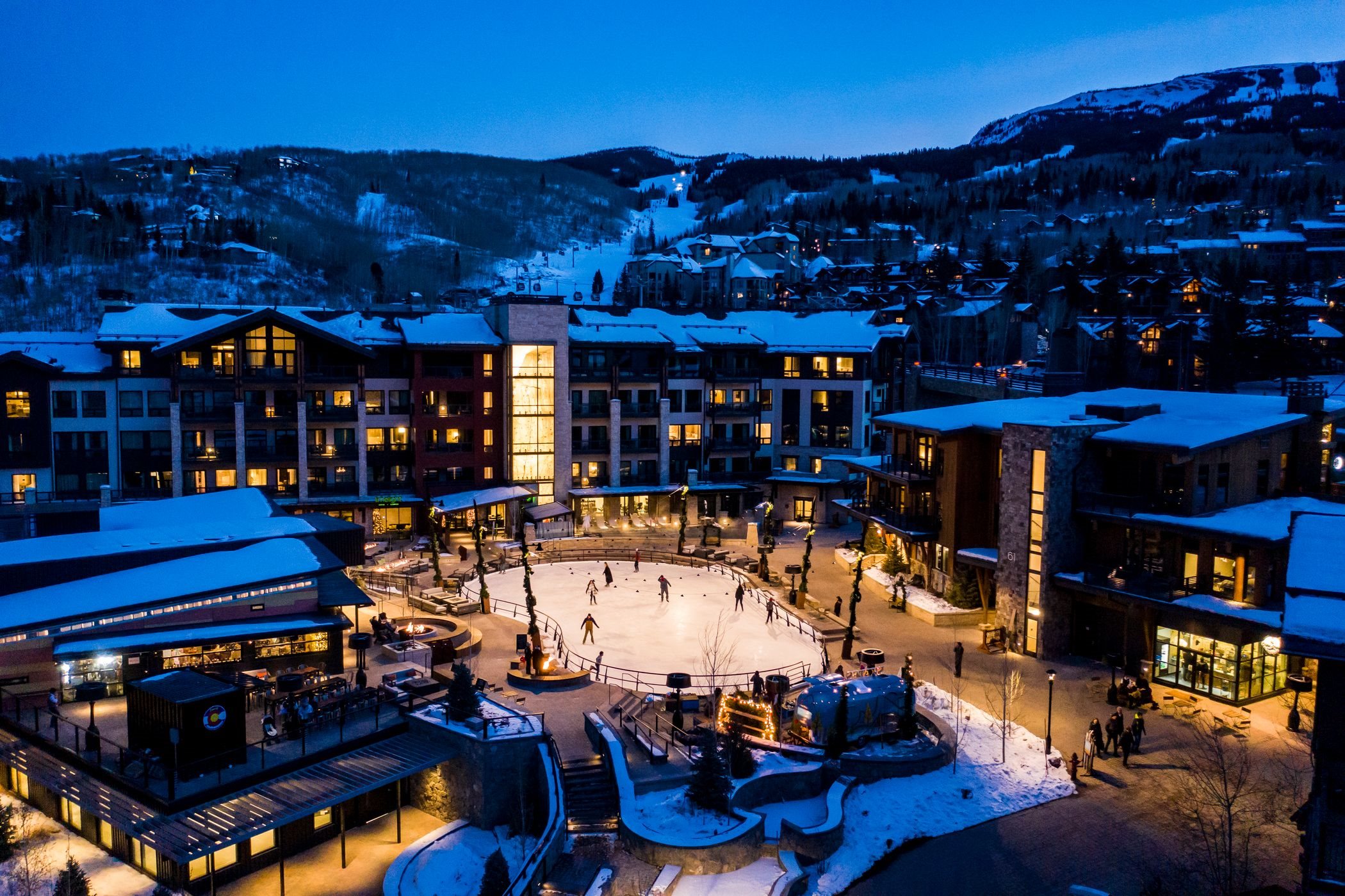 Snowmass Village
1/22/2021
Havens at Fanny Hill & Electric Pass Lodge
Happy Friday from Aspen Snowmass! I hope you are doing well and staying healthy and safe. January is quieter than normal in Aspen Snowmass without our Brazilian and Australian friends, but there is still lots of excitement brewing in Snowmass, specifically at Base Village. Snowmass Base Village was completed a few years ago, and has been a vibrant area in the village ever since. I was sitting in the hot tub at the Snowmass Mountain Club at The Limelight Hotel last weekend with my kids looking out at ice skaters circling the rink and families huddled around the fire pits having fun and enjoying treats from the Creperie, Sundays, drinks from Mix Six. It was a fun scene. Even in a pandemic, it's a great place to hang out and enjoy family time after a great day on the hill. Read on to find out why this is such a special place, and only getting even better!
Snowmass Base Village offers fun activities for kids and adults alike. Snowmass Ski Area is renowned for its world-class terrain for all skiing and boarding ability levels and great on-mountain facilities. The ice rink providing après ski fun in the heart of Base Village in winter, turns into a turf field for soccer and games in summer. Year-round appeal includes wonderful restaurants, the Limelight Hotel, and The Collective - which offers family-friendly programming, Mix6 Bar and Restaurant, and even a kids' game lounge. This is the place to be, summer and winter!
All of the action in the new Base Village is complimented by some beautiful new contemporary residences at Lumin, Limelight Residences and One Snowmass East and West. Most of this new inventory is sold out. As of today, there are only a few developer units left at One Snowmass East and a few resales at One Snowmass West and Lumin. Two new residential projects in Base Village will break ground this spring. These incredible and totally unique new projects are The Havens at Fanny Hill, and Electric Pass Lodge.
Havens at Fanny Hill include ten single-family homes conveniently located directly on Fanny Hill across from the Village Mall and in front of Woodrun Place, just below Woodrun V. Location is everything with Havens. This is fall-out-of-bed ski access; it doesn't get better! Because of this unique and special location, these will be the only ten single-family homes ever available in the new Base Village collection designed by Lake Flato Architects out of Texas. Havens is a fully managed property, with three and four-bedroom layouts. This project will be completed in 2023. However, it is not too early to own your Haven! Registration is open and three units are already pending sale, 3-bedroom unit #4, and 4-bedrooms #7 and #8. These are listed between $5 - $8 million. Please call or email me today if you would like to learn more about this exciting project in Snowmass Village.
Electric Pass Lodge is comprised of 52 two and three-bedroom residences located just to the east of One Snowmass East and Limelight Snowmass, across from the new Snowmass Clinic, where my good buddy Dr. Jon works. These will be brand new ski-in, ski-out residences that will offer the first large saltwater pool in Base Village, which will make the Haden and Capital Peak owners very happy! Beyond these amenities, Electric Pass Lodge will be 100% electric and 100% sustainable. Not only is this project unique in its sustainability, but so is the sales process. Much like the Tesla model, at noon on Tuesday, January 26th, interested parties can sign up for priority reservations with a fully refundable $1,000 deposit for their own Electric Pass Lodge unit, which is also slated for completion in 2023. Please call or email me today for more information on this next generation project and sales process. The deposit is refundable and it saves your priority spot in line, so if you're considering it, let's get you registered, so you have an early pick for the best location in the new building. Remember there are only 52 units in total at Electric Pass Lodge and they will be more affordable than One Snowmass, Lumin or Limelight with pricing starting at $1,400,000. Viceroy Tower 2 will be a hotel and not a condominium project. With the other high-end buildings effectively sold out, it's a good bet that Building 12 will also be more expensive. With Haven's starting at $5 million, Electric Pass fits a niche for a great eco-friendly complex with a more competitive entry pricing strategy and excellent amenities right in the middle of Base Village.
With record-low condo and single-family inventory in Snowmass Village, especially for new contemporary product, these two new condominium projects are exciting opportunities to be a part of the energy and fun of the new Base Village. Construction is set to start in Spring 2021. If you're interested in learning more about Havens, Electric Pass Lodge, or any Snowmass Village condo or single-family opportunities, please contact me today. We are here full-time, ready to help you! Have a fun and safe weekend! Do your snow dance! Hopefully winter is returning this weekend! X Games Aspen is coming to Aspen next weekend! We will share some tips next week on how to take part in the action even though spectators will not be welcomed this year in person to Buttermilk!