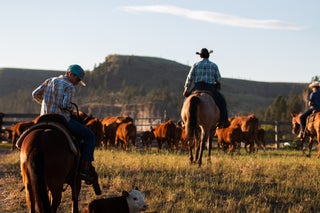 Lifestyle and Events
10/11/2019
Harvest Party at Rock Bottom Ranch
Happy weekend from snowy Aspen, Colorado! Since early Thursday morning, we have received over 10 inches of snow on the top of Aspen Mountain. We are only 48 days from the start of ski season, but there is still plenty going on off the mountain during this gorgeous off season.
Check out the Harvest Party at Rock Bottom Ranch this Saturday, October 12th from 12pm to 4pm. Enjoy a local-sourced lunch, using ingredients from Rock Bottom Ranch, at this family friendly, all ages party. Celebrate fall with fun events such as pumpkin carving, apple cider pressing, vegetable harvest, hay rides, face painting, arts and crafts with The Art Base of Basalt, photo booth, live music from A Band Called Alexis, and more! Rock Bottom Ranch is a fully functional ranch in Basalt, only 25 minutes from Aspen. It serves as the midvalley hub for Aspen Center for Environmental Studies (ACES), and specializes in environmental education, sustainable agriculture, as well as an educational ranch and wildlife preserve. It's also one of the best places in the whole valley to buy local products such as meat, eggs, and vegetables.
This long standing event has a newer addition, the Second Annual Pie Contest. Anyone may enter this tasty competition. Pies will be judged on creativity, taste, and appearance. There are three categories: Best in Show, Most Creative, and Best Youth, 12 and under competitors. The third place and second place prizes include harvest baskets of Rock Bottom Ranch goods, and the grand prize of Two Tickets to an ACES Burlap Dinner in the summer of 2020.
For more information on this car-free event, and more information on the Pie Contest- check out www.aspennature.org. Enjoy the snowy, sunny fall weekend!