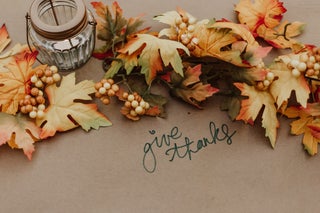 Lifestyle and Events
11/27/2019
Happy Thanksgiving!
Happy Thanksgiving from Aspen Snowmass! Aspen Mountain and Snowmass Ski Resort opened last weekend with a fresh 16 inch storm, with more snow storms expected throughout the holiday week. There are plenty of ways to celebrate Thanksgiving dinner in Aspen Snowmass, no matter what your budget. Here are a few ideas to make Turkey Day memorable.
With the slopes already open and more snow falling daily, Aspen Mountain and Snowmass Ski Resort will be the hotspots during Thanksgiving Day. Back again, Thanksjibbing will take place at Snowmass from 2-3pm on Fanny Hill. Check out local freeskiers and riders carve their way through the terrain park for cash prizes and bragging rights that lasts all season long. Entry is free for those wanting to participate. Learn more at www.aspensnowmass.com
If you're looking for affordable Thanksgiving food during the day, check out these options. Head over to Big Wrap between 10am and 6pm for their infamous Pilgrim's Wrap. Don't worry if you miss out, this is available every Thursday as a special. Did someone say truffle fries and turkey? Ajax Tavern at the base of Aspen Mountain is once again offering their plat du jour of traditional Thanksgiving goodness for $34 from 6-9pm, in addition to their regular menu. Jimmy's Bar and Restaurant, a local favorite, is offering a three course holiday feast for $48/person from 3-10pm. It's sure to turn to a party after 10pm, so make your reservations early.
If you're looking to step up your Thanksgiving meal game with a wine pairing that are also kid friendly, these options are for you. Toro Restaurant at the Viceroy Hotel in Snowmass Village is taking a Spanish flair on the traditional Thanksgiving grub. Do not miss their heavenly Mexican, canela-spiced flan for dessert. The Hotel Jerome will once again host their decadent holiday buffet. If you're looking for all the fixings, antipasti, and a raw bar- this where you need to be.
For more information on these specials and other Thanksgiving specials, check out www.eataspen.com and www.eatsnowmass.com. Wishing you a happy and safe holiday!
read