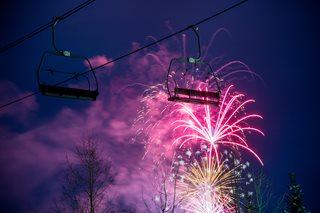 Lifestyle and Events
12/27/2019
Happy New Year from Klug Properties!
Happy New Year from Aspen Snowmass! What an amazing decade it's been. In the last 10 years, Aspen Snowmass has gone through lots of exciting changes. Snowmass welcomed the much anticipated Base Village, Aspen Skiing Company jumped on board with the Ikon Pass, and the Midvalley thrived with the development of Willits Town Center. There's a lot to look forward to in the new decade, such as five more years of XGames, the possibility of Pandora on Aspen Mountain, and the future of Lift 1A. While there is much to reflect on and even more future to fantasize about, there are fabulous New Year's Eve parties to look forward to in the near future. Read on for the best of the best!
Snowmass is no longer the sleepy mountain town. In fact, its roaring. Check out the Roaring 20's New Year's Eve party at the Collective in Base Village. Guests are encouraged to dress their flapper and dapper best to celebrate the new decade. There will be extravagant eats and divine drinks from the new mix6 restaurant. The party starts sharp at 9pm. Before you get all dressed up, join the traditional Torchlight Parade. Skiers and riders start boarding the Village Express lift at 5:30pm to carry festive red flares while making wide turns down Fanny Hill. The Torchlight Parade starts promptly at 6pm, for those just wanting to be a spectator. For more information on these events, head over to www.gosnowmass.com
If you're looking for the ultimate New Year's Eve celebration, look no further than the Clicquot Cats. Choose either the 8pm or midnight fireworks display to ride up in a snowcat with up to 12 guests of your choice. Only three cats go up for each display. Enjoy famous Little Nell five-star service combined with coveted Aspen Mountain access and Veuve Clicquot La Grande Dame champagne throughout your experience. For more information, head over to www.thelittlenell.com
Wanting to stay in Aspen and catch some live music? Head over to the Wheeler Opera House for Yonder Mountain String Band. For over 20 years, the Wheeler Opera House has hosted a live music New Year's Eve party. Before the concert, enjoy light bites and drinks from the Wheeler for the firework viewing party. This event starts at 7:45pm. Head over to www.wheeleroperahouse.com for more information and tickets.
Whether you're out on the town or in for the night, have a happy and safe New Year's Eve!