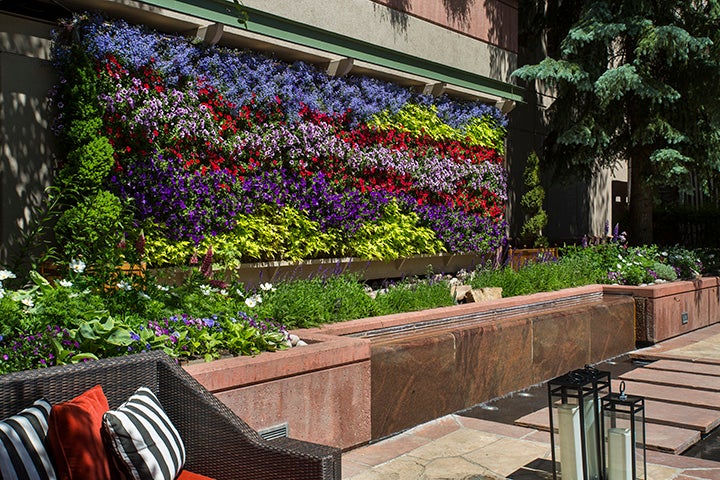 Lifestyle and Events
5/17/2019
Garden Goals: Behind The Design Of The Little Nell's Famed Living Wall by Katie Shapiro
Spring has sprung, albeit in between bouts of snow, with May's flowers in full bloom. And if you stop to smell the roses around Aspen's downtown core, chances are the team behind Busy Beavers Gardening planted them.
Longtime locals Arabella Thoyts-Beavers and Jason Beavers co-founded their business more than 15 years ago and since then, have brought boundless beauty to the community through creative colorful, custom gardens large and small.
Their biggest undertaking is in the form of the famed "Living Wall" at The Little Nell, where Arabella also serves as the resident gardener. Now in its fifth season, the Beaver's are putting the finishing touches on the massive, poolside installation.
Born and raised in Great Britain, Arabella uses her background in traditional English gardening in the way she approaches every project. It was at the RHS Chelsea Flower Show in London, which she attends every spring, where she originally learned about living walls. In 2014, she came back with an idea for The Little Nell to cover up its concrete façade.
Working with Botany Lane in Denver, Arabella and Jason oversee the growth of the flower and plant mural in six separate panels. Upon completion, it will be sent up to Aspen on a flatbed truck for the Busy Beavers Gardening team to carefully position the 24-by-6 foot work of art in place.
Each year, Arabella dreams up a different theme and this year, the Living Wall is a celebration of color as it mimics a rainbow. Officially titled "Over the Rainbow," Arabella explains, "The bands of colors arc just like a rainbow would. The design inspiration came from my love of color and one of my favorite contemporary artists, Zhuang Hong Yi, whose work I noticed in the Opera Gallery and immediately saw the next Living Wall in it. His portrayal and understanding of flowers and color are blended together to create incredible beauty."
"We will be using more dahlias that we have specially grown, as well as many popular Colorado natives such as the state flower, the columbine. We are also going to show a wonderful display of shade tolerant annuals such as begonias in our hillside shade gardens that will be just stunning," she adds.
The Little Nell's marvelous gardens are just one of fifteen North American Relais & Châteaux properties featured in a recently published coffee table book, The Art of the Garden, by Rizzoli. The gorgeous collection of images, food and drink recipes and stories connects each chapter with its surroundings and is available in the Little Nell's in-house boutique ($55).
"Jason and I and our entire team are so proud to work with The Little Nell — Simon Chen (General Manager) has encouraged us to look at new global ideas and innovation in gardening, enabling us to bring them to life in our little piece of paradise. I don't know any other ski town in the world that has world-class gardens like Aspen."
"Over the Rainbow" is slated to debut the week of June 3 when the surrounding gardens and new herbaceous border garden will also be in full bloom. Guided by Arabella herself, The Little Nell also hosts complimentary, weekly garden tours every Friday at 4:00 p.m. from June 21 through August 30 — the perfect way to inspire ideas for your own home.
Until then, we asked Arabella for her top 5 tips for home gardeners:
SUN VS. SHADE
"Putting the right plants in the right aspect is essential. Always be aware of where the sun or shade lies around your garden and never put a sun-loving plant in a shady aspect or vice versa. The right plants thrive in the right place."
SOLID SOIL
"It's key to have good soil amendments whether through composting or other organic materials like manure or sulfur. We are lucky to live in a region very rich in clay soil, which makes plants and flowers very happy, too!"
WHEN TO WATER
"Be very mindful of the times of day when you are watering. With water becoming more scarce and with the danger of wildfire that we saw last season, always water in the early morning and late evening hours. And NEVER water during the middle of the day when the heat of the sun is the strongest. It causes the water to evaporate and can burn flowers and plants."
PEAKING PLANTS
"Knowing the mature height of your plants before you plant them is important. You don't want to put plants that have the potential to be tall in the front and realize it when it's too late. Tier and layer your plants accordingly."
GO ORGANIC
"Last and most important to us at Busy Beavers Gardening is being green. We are incredibly proud to be as organic as we possibly can. Chemical-based products like Roundup and pesticides should never be used in a garden … and just because a product claims it's innate doesn't mean it's not doing damage to the earth. Every time a chemical is put into the ground, there are serious repercussions for songbirds and animals and us. The fewer chemicals in our environment the better. Physically pulling weeds out of the ground is my philosophy! An amazing local resource is Eagle Crest Nursery in El Jebel, which has a huge selection of organic alternatives and super helpful staff to help you choose what's right for your garden."
For more information visit bbgaspen.com and thelittlenell.com.
Blog credit to Katie Shapiro, Aspen Snowmass Sotheby's Elevated Living Blog