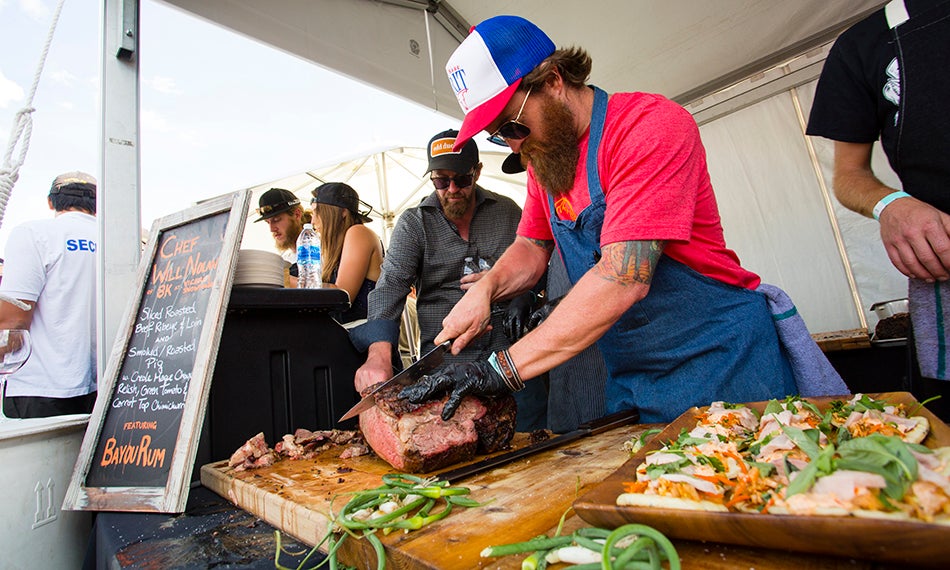 Lifestyle and Events
6/11/2019
Five Ways to Food & Wine Without a Pass by Katie Shapiro
The annual FOOD & WINE Classic (June 14-16) is undoubtedly Aspen's tastiest… and toughest ticket of the summer. Now in its 37th year, more than 5,000 foodies will descend upon the downtown core to indulge in the three-day culinary celebration. The Grand Tasting Pavilion is the epicenter of the festival, with endless food and wine tastings, while lively cooking demonstrations, interactive seminars and panel discussions are held at additional venues. Snowmass Village plays host to a tour stop from Cochon555, an ongoing series of authentic, hyper-local food events in 15 cities across the country focused on raising awareness for heritage breed pigs. It is unaffiliated with the Classic, but is always a cornerstone of the weekend. The Food & Wine Classic pass has a $1,700 price tag and access is exclusive. But, if you're a local sans pass or decide on a last-minute weekend getaway, you can still be a part of the action with open-to-the-public events added into the mix of other unofficial festivities. Here are five ways to Food & Wine without a pass:
Heitz Cellar Legacy Dinner
Friday, June 14, 7 p.m., Element 47 at The Little Nell
This evening brings a trio of wine industry titans together for a meal not-to-be-missed. It includes the return of former Little Nell Wine Director Carlton McCoy, in his new role as the CEO of Heitz Cellar, joined by the estate's winemaker, Brittany Sherwood. Together, they will guide guests on a journey through the decades of the classic wines of Heitz Legacy Collection and share details about the history of The Heitz Cellar, which was founded in 1961 by Joe Heitz whose objective was to make California's most elegant, well balanced and pure Cabernet Sauvignon-based wines. The evening will be anchored by a seasonal tasting menu from Element 47's executive chef Matt Zubrod. $1,200, thelittlenell.com
Rustic Grind
Thursday, June 13, 6:30–8:30 p.m., Snowmass Base Village
The annual Snowmass Free Concert Series has again teamed up with Cochon555 for an ultimate al fresco evening on Fanny Hill to kick-off Food and Wine Classic festivities. Pairing musical guests SEE-I Reggae Funkmasters with culinary experiences curated by the dynamic team behind Heritage Fire. Nationally-acclaimed chefs along with local all-stars, Kyle Wilkins of Home Team BBQ and Michael Coco of Snowmass Tourism, will be loading up wood-fired grills with heritage breed sausages paired with artisanal wines and hand-crafted cocktails from El Tesoro Tequila and Courvoisier. $40 wristband (all-inclusive), free (music only), cochon555.com
Food & Wine Classic 5K Charity Race
Friday, June 14, 7:00 a.m.–9:00 a.m., Rio Grande Park
Earn those extra calories for later during this early morning jaunt through downtown Aspen with your favorite foodies. Proceeds from registration benefit both the Jacques Pépin Foundation and Wholesome Wave, the national non-profit dedicated to supporting small and midsize farms, and making fresh, healthy, locally grown produce available to underserved communities. This year's fun run is hosted by chefs Richard Blais, Stephanie Izard, and Michel Nischan. $35 (advance), $45 (on site), foodandwine.com
Heritage Fire
Saturday, June 15, 4:00 p.m.–7:30 p.m., Snowmass Base Village
This epic live-fire feast showcases local pitmasters Andrew Helsley (Aspen Skiing Company), Jim Butchart (Aspen Skiing Company), Eddy Chimal (Venga Venga), Alberto Figueroa (Viceroy Snowmass), Kyle Wilkins (Home Team BBQ), Jason DeBacker (The Edge Restaurant) and Dan Foster (Westin Snowmass) along with more than 50 notable others chefs and butchers who go nose to tail on 3,500 pounds of heritage breed meats en plein-air with plenty of wine and cocktails to wash it all down. $150 (general admission), $200 (VIP), cochon555.com
Farewell Feast: Best New Restaurants
Sunday, June 16, 11:00 a.m.–1:00 p.m., Hotel Jerome
Each year, Food & Wine editors embark on an epic year-long road trip, traveling the country in search of America's most exciting, important and delicious new restaurants. The July 2019 issue of Food & Wine officially reveals the exceptional list, but this culmination of the festival will welcome the winning chefs themselves to offer up a once-in-a-lifetime walk-around tasting for guests—all at the historic Hotel Jerome. $150, foodandwine.com
For the complete schedule, visit: classic.foodandwine.com and cochon555.com and follow all of the action on social media @foodandwine / #fwclassic and @cochon555 / #heritagefire. For lucky pass-holders, don't forget to download the official Food & Wine Classic app to help you navigate the tents.
Blog Credit to Katie Shapiro, Aspen Snowmass Sotheby's Elevated Living Blog