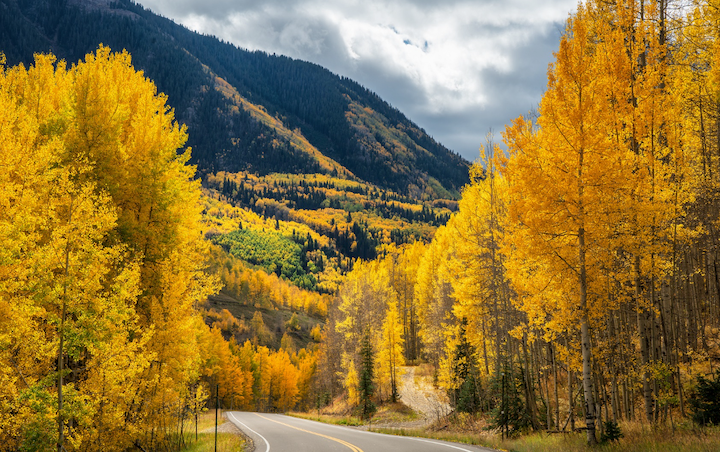 Lifestyle and Events
9/15/2023
Early Off-Season Updates: Remaining Events, Leaf-Peeping Spots, Road Closures & Restaurant Closures
The leaves are changing early in what is one of my favorite times of year in Aspen Snowmass. We received a dusting of snow in the high country the past few days; fall is fast approaching! Our town has begun to take a much-needed breath after a busy summer season, as we take in the magic of autumn colors in the Roaring Fork Valley. The seasonality of this valley, in my opinion, is what keeps things interesting. Just as we get comfortable with one season, the next one creeps up and keeps us on our toes. I believe this keeps our community vibrant, resilient, and one of the best places to live in the world.
Events
There are still a few community events to enjoy before we slow down entirely for the off-season including Ruggerfest this weekend, and Balloonfest and Aspen Filmfest next week. The famed Golden Leaf Half Marathon, voted by Trail Runner Magazine as one of "America's 14 Most Scenic Races" is on September 23rd. We also have four Saturday Markets left to get all your local goods and produce before the snow falls.
Leaf-Peeping
Best Drives
The two most obvious and well-known leaf-peeping drives are up Maroon Creek and Castle Creek. They are easily accessible, not far from town, and almost any vehicle can make it up just fine as the gradient is not steep and the roads are paved. These drives are iconic on their own. Add in the fall colors and you'll feel like you're in a painting. Independence Pass also offers fantastic views and colors but is steeper and has sharp, cliffside drop-offs. Lastly, Snowmass Creek offers some of the largest Aspen groves in the valley as you wind in and out of dense, forested land. For those with vehicles equipped to handle an off-road adventure, try Little Annie's Road up the backside of Aspen Mountain or Express Creek up to Taylor Pass for an exceptionally rocky ride. Worth it for the views, though!
Best Hikes
If you want to hike to some incredible viewpoints but don't want to deal with steep grades, difficult terrain, or venturing far from town, try Smuggler Trail to BTS (Behind the Sign) Trail in Hunter Creek or Sunnyside near Cemetery Lane! Both offer gradual and smooth gradients while leading you to some great viewpoints where the Town of Aspen is visible among the colors. For those wanting to get farther from town, American Lake Trail, Capitol Lake Trail, and Crater Lake Trail are some of the most gorgeous yet still easily accessible trails in the Aspen Snowmass area. Seeing the fall colors reflect off glassy alpine lakes is one of the most beautiful sights our valley has to offer.
Road Closures
If you are driving from Aspen to Snowmass this fall, give yourself a liberal buffer of time as there are two large-scale projects happening on Main Street in Aspen and Brush Creek Road in Snowmass Village. The project on Main Street, named "Maintain Main", has fortunately tightened its timeline, and should be done by September 18th. Until then, expect up to 30-minute delays when traveling from one side of Aspen to the other. The Brush Creek project won't be done so soon, however. The estimated completion date is November 1st. Until then, from the roundabout to Sinclair Road will only service local traffic for those who live in the area. If you plan on visiting Snowmass Base Village, the Snowmass Town Center, or the Snowmass Village Mall, you will have to take Owl Creek Road. Patience will be a virtue this fall as more projects will likely pop up as the city takes advantage of the off-season to get Aspen Snowmass ready for winter.
Restaurant Closures
As any local knows, Aspen is a seasonal place with seasonal amenities. If you are a visitor during the October – November months, however, you might be surprised at the lack of dining options available. Many of our favorite restaurants close around early to mid-October. Here is a list of restaurants that stay open all off-season!
Acquolina, Aspen Tap, Brunalleschi's, Butcher's Block, Clark's Oyster Bar, Grateful Deli, Hickory House, Home Team BBQ, Jour De Fete, Jus, Little Ollie's, Matsuhisa, Mawa's Kitchen, Mi Chola, New York Pizza, Paradise Bakery, Plato's at Aspen Meadows, Poppycock's, White House Tavern, Woody Creek Tavern, Zane's Tavern.
We hope you have a pleasant and rejuvenating fall ahead! Please call or email if I can help in any way.
Chris Klug