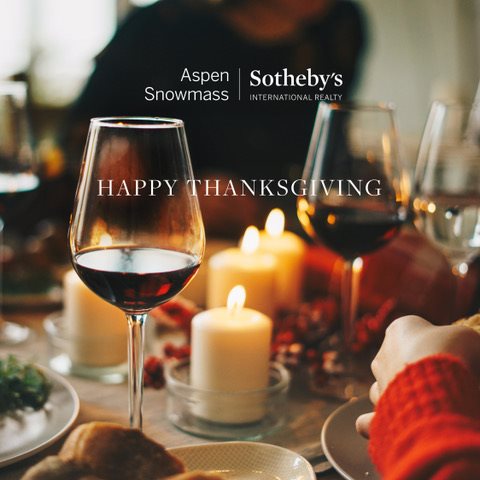 Food And Wine
11/10/2023
Don't want to cook for Thanksgiving? Aspen has you covered!
Have you ever met a person who doesn't love a big Thanksgiving dinner? I personally haven't, but I've met plenty that don't love cooking it! When I used to live in the Hunter Creek apartments, our kitchens barely had the bandwidth to withstand cooking a Thanksgiving feast. If you find yourself in either of the two camps just mentioned, you'll want to consider one of the options below for a pain-free Thanksgiving experience. From dining out to to-go options, this list has you covered!
Ajax Tavern | Dine-In | 5:00 – 9:00 PM | $60+ per guest | To-Go option available
Whether you are looking for a traditional plate of turkey with all the fixings or prefer your favorite Ajax Tavern staples, gather your family and loved ones for an evening at the base of Aspen Mountain. Plat du Jour is $60 per guest | Ajax Tavern's regular menu is also available.
For the to-go option, allow The Little Nell's culinary team to lend a helping hand this year with a pre-cooked meal to-go, ready to be reheated and served. Place your order by noon on November 21. Pick up from 9 - 11 am on Thanksgiving Day, November 23. $250 per order, which serves up to 4 people.
Update: The dine-in option JUST sold out. You can join the waitlist by contacting dine@thelittlenell.com or 970.920.6331. To-go is still taking orders at the same contact email and number!
Element 47 | Dine-In | 3:00 – 9:00 PM | $150+ per guest
Enjoy a chef-prepared holiday dinner so you can relax, celebrate, and give thanks. Delight in a delectable three-course menu of festive favorites with a gourmet flair. $150 per guest, available with a $100 wine pairing, $50 per child. View more info here and make reservations at dine@thelittlenell.com or 970.920.6331.
St. Regis | To-Go | Taking orders through Nov. 19 at 5 PM | $400 - $700
Similar to Ajax Tavern, Velvet Buck at St. Regis is lending a hand with pre-cooked meals to-go. Offerings range from standard to extraordinary and prices from $400 to $700. Reservations at 970.920.3300.
Mawa's Kitchen | To-Go | Taking orders now | Pricing varies
Aspen's beloved Mawa is also helping out this Thanksgiving with traditional and not-so-traditional options. Email info@mawaskitchen or call 970.710.7096 to place your order.
Prospect at the Jerome | Dine-In | First seating 4:00 PM, Second seating 7:30 PM | Pricing varies
Dine on a four-course "Harvest Feast" menu that mixes traditional and non-traditional dishes to evoke the spirit of "then and now" at Hotel Jerome. Call 970.429.7610 for reservations.
Home Team BBQ | To-Go | Taking orders now | Pricing varies
Pre-order your feast with Home Team catering and stay out of the kitchen this holiday season. They will provide turkey and ham by the pound, traditional sides, desserts, and special cocktail mixes. Add on brisket or any of your Home Team BBQ favorites. Who says you can't have ribs and wings on Thanksgiving? View the holiday menu here!
We wish you a Thanksgiving filled with gratitude, love, and delicious food. See you on the slopes pre-dinner!