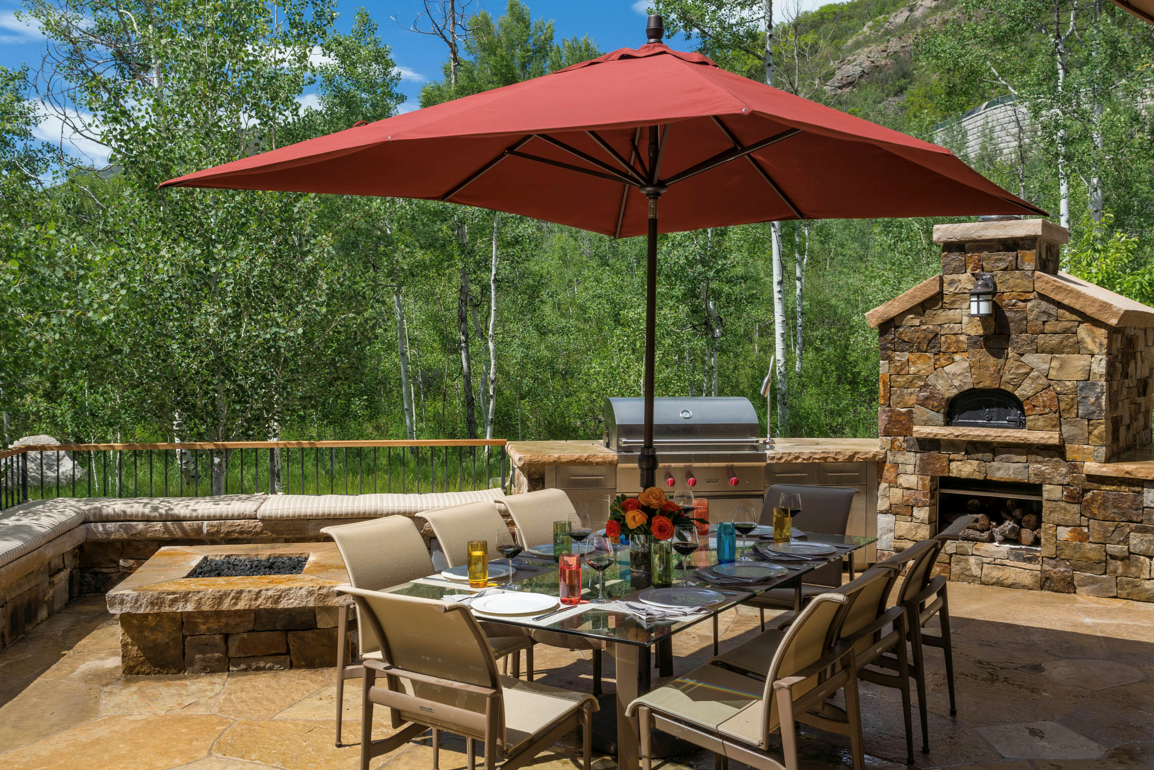 ART & DESIGN
7/24/2020
Designing for Outdoor Spaces by Anne Grice, ASID, NKBA
There is nothing better than an inviting outdoor gathering or dining space for entertaining or just relaxing on a summer day. But where to begin?
If you already have an existing deck or patio, it's a little easier. Make sure to carefully measure and draw it on a plan showing access to your home, any steps, etc.
If you are adding a deck or patio, you may need help from a designer, architect or builder. Once you have the layout on paper, be sure to mark it out on your lawn area to get a feel for the size.
Make sure any materials or colors coordinate with the paint, stone or other materials on your home.

Hardscape such as concrete or stone usually look best if it has some curves to it –unless a rectangle works better with your home and landscaping.

ALWAYS get large and multiple samples to view with your home's existing finishes
Outdoor dining
This is very similar to your indoor dining layouts – allow 30" behind chairs

Make sure chairs are comfortable – this becomes a hangout space as well

Umbrellas – there are some great cantilevered umbrellas from Treasure Garden and Tucci that are easy to turn and tilt as needed for great shade. They make heavier ones (on wheels too) if you are in a high wind area.

Table – think about the material. I don't love the ones that have open metal work – what happens when you spill? And they aren't so easy to clean, either! Textured tempered glass within a metal frame is my favorite.
Make your layout work with your space. This area has a low wall surrounding it. The umbrella rotates to work perfectly with the table without impeding the view. | Anne Grice Interiors

Firepit or Chat Area
I love a round seating arrangement – great for conversation

You can get a portable gas firepit (the canister is hidden) in many styles now

If you don't want or need a fire, you can have a low cocktail or "chat" table in the center

Chairs should be more lounge type. Swivel and or tilt is nice. Not too low if you have a higher firepit.

Cushioned chairs can be great for an area like this. Make sure they are made with outdoor filler and outdoor fabric. Higher priced ones actually drain and will not mold or mildew.
These Brown Jordan Parkway Lounge chairs make a great "chat" area. | Anne Grice Interiors
Low walls or Benches

If your layout lends itself to low walls – this can be a great feature and you can incorporate built-in planters and/or benches here. Adding a cushion to your built-in benches adds comfort and an opportunity for color and texture.
Outdoor Kitchen
If you have the space and the budget – an outdoor kitchen is a fantastic amenity that you, your family and friend will enjoy for years.
Layout is important.

Select your appliances first. There are some wonderful built-in grills and cooktops for outdoors.

Make sure you think frost proof for any refrigeration in a climate that freezes in winter

A pizza oven can be a fun and functional focal point for your outdoor kitchen. They can be contemporary or traditional like the one below.
This patio incorporates an outdoor kitchen with pizza oven, firepit, bench seating and dining | Anne Grice Interiors, Viking Construction, Johannsson Architects.

Furnishings

Think investment, not expense.

Quality outdoor furnishings can and should last for decades. Go with reputable companies or use a designer that knows quality.

Materials are important – Teak can last for years but requires almost yearly (and costly) maintenance to maintain its color. Otherwise it looks very gray like an old park bench. All-weather wicker is great for pool or beachside.

Weight of pieces – do you want to be able to move pieces around? Teak is heavy. Many chaise lounges have wheels. Aluminum is a quality choice and comes in many finishes.
The strong lines of this Sutherland Beachside Swivel Lounge Chair work great in larger areas.|David Sutherland
Do you want to be able to lounge or nap? Chaise lounges with cushions are the ultimate luxury! You can also consider a hammock (these can be freestanding, too) or sofa.

If your space is large, sectionals are great outdoor pieces.
This Sutherland Beachside sectional is not only a striking design but extremely comfortable.|David Sutherland
Faux wicker is a great waterside option. This MU modular lounge from Dedon is a lasting choice for chill-out. | Dedon
Sling or cushions? Sling fabrics are durable, comfortable and quick drying. Cushions allow more options in outdoor fabric and are the ultimate in comfort.
This Tropitone KOR Relaxed Sling chair is a great quick-drying option for dining poolside or in an uncovered area. |Tropitone
Don't Forget

There are many options for outdoor rugs. These are great to add comfort and color or if you have an unattractive deck or patio finish.

Fabrics – there are so many choices now. Be sure to go with fade proof, durable and easy to clean choices. Most can be cleaned with a bleach solution.

Umbrellas – there are so many sizes and shapes now.
This Treasure Garden 10' x 13' Umbrella swivels, tilts and covers even a large furniture arrangement. |Treasure Garden
Covers – don't forget the covers! Much more convenient than taking in cushions. These keep the fabrics clean and extend the life.

Lighting – an important part of any outdoor space

Plants – decorative containers come in many styles. Make sure the style you go with works with your architecture.
Anne Grice is a residential designer based in Aspen, Colorado. Anne believes luxury is in the details and that good design should be lasting. Her firm, Anne Grice Interiors, located in Aspen, CO is in their 24th year and has won numerous awards from ASID (American Society of Interior Designers), NKBA (National Kitchen and Bath Association) and others in almost every category. They do work all over the US. Anne can be reached at anne@annegrice.com.