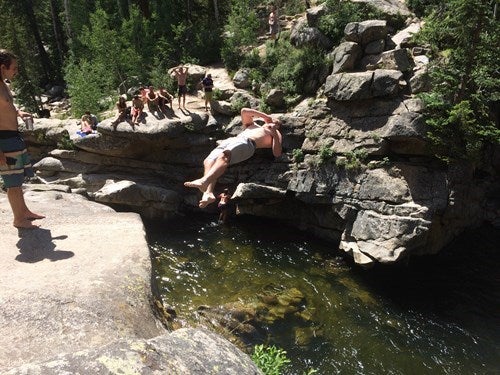 Lifestyle and Events
7/27/2016
Cool Spots in Aspen, Colorado
Aspen in July is stunning. The sun is always shining over the clear blue skies and lush green mountains. The valley is sprawled with tall white aspen trees and beautiful wild flowers. Although lovely, the high elevation can make for a powerful sun that can get pretty warm in late afternoons. Here are some fun activities to stay cool this summer.
Aspen's punch bowl (seen below) is just a short ways up Independence Pass. It is a spot along the Roaring Fork River where the water slows and swells below smooth towering rocks. The punch bowl is a local secret on account of its dangerous features. It may be an intimidating drop to some cold water below, but it is safe as long as you avoid the one perfectly visible rock near the center.
Just slightly down the road, you can find a massive rope swing into a deep swimming pool. The rope can be a bit tricky, and most people might prefer just to enjoy the swimming. If you want to try the swing be sure to choke up on the rope as high as possible and let go over the deep water below.
Even closer to town and along the same road, Stillwater is a perfect place to bring rafts or SUP's and float along the river. The Roaring Fork River meanders through North Star Preserve. A wooden bridge above the slow moving water is a perfect place to launch off on your floating adventure.
Lastly, in central downtown, the Mill Street Mall Fountain is a popular way for kids to cool off on a warm summer's day. The game is to balance balloons on the tall pillars of water. Running through the fountain avoiding the shooting beams as they randomly spray out of the ground is a favorite. Kids love it, and parents love relaxing as they watch their kids tire themselves out even more. Get out and explore our amazing valley. There are plenty of fun secretes to discover. Go enjoy the warm weather, and stay cool doing it.