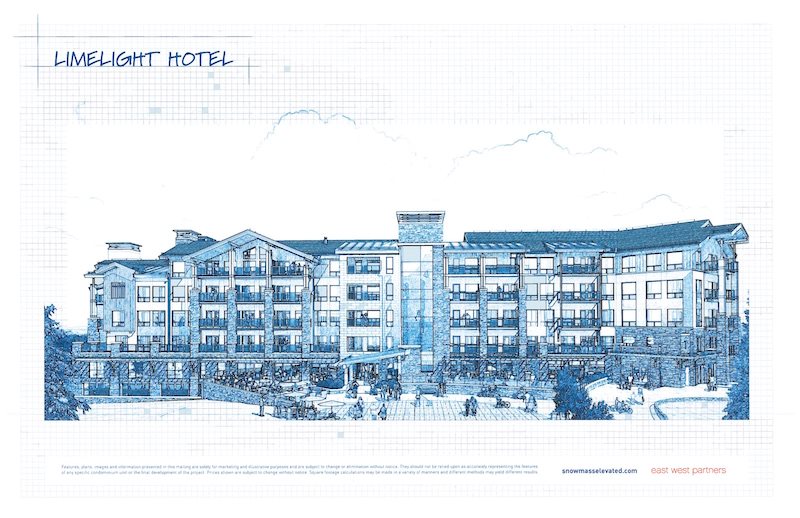 Snowmass Village
2/3/2017
Base Village Update from East West Partners
John Calhoun, Director of Sales for East West Partners, presented to our Aspen Snowmass Sotheby's International Realty Snowmass Team on Wednesday, February 1 in Snowmass. John said that we should see shovels on the ground starting this May, and cranes in the air more towards the fall. Four projects are slated to begin this year:
Limelight Hotel, 99 hotel rooms, 7-11 residences for sale, 5 story building, 1,800 - 2,800 sq. ft., 2,3, & 4 bedrooms, 5-story climbing wall along elevator shaft. 98% designed.
Plaza, kids area, music area, fountains.
Building 4, Zamboni house, ski shop and 3 Condo residences - 3 to 4 bedrooms, 2,600 – 3,500 sq. feet, big views, open floor plans - possible pre-sales this summer! 95% designed
Discovery Center, Mammoth and Fossils area - will belong to Snowmass Village to do at will.
All four projects must be completed no later than November 2018. The partners in this development are East/West, Aspen Ski Co, and KSL. Work on buildings 7 and 8 (Arrival area) are in the design phase. There will be condos, pool top decks and patios. East/West is planning a Vision Center in the Base Village area soon with models, blue prints, etc.
Viceroy Snowmass will release twenty developer units of existing one, two, and three-bedroom inventory on Feb 15. They will not be in the MLS and will not be available after April 1. A variety of floor plans in all areas of the building will be available from $200,000 - $1 million. I should have set pricing and unit numbers next week. Phase 2 will not be started for at least 3 to 4 years; there are no set plans at this point. I think the twenty Viceroy units will be a great opportunity to get into Base Village and Viceroy at a very competitive price.
East West, KSL and ASC are going to spend around $200 million in Snowmass Village in the next decade. It will be exciting to see Base Village finally moving forward. Exciting times ahead for Snowmass Village.
Chris Klug