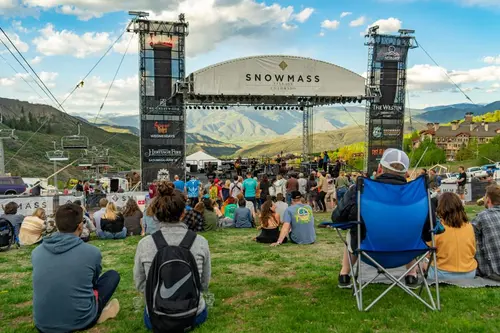 Lifestyle and Events
6/18/2021
Back in Action - Our Top Summer Events in The Roaring Fork Valley
As off-season came to a halt in May and many of the Roaring Fork Valley's restaurants and businesses opened their doors to a surge of visitors and locals, life is back to normal! The hiking trails, mountain biking paths and rivers are bustling once again, and along with this change, restaurants, stores and offices now have the option to operate in full capacity. Below, find the best way to experience the valley with an action-packed week of activities to enjoy now that our favorite mountain towns are back in business! We have curated the most iconic week in the Roaring Fork Valley, including events in arts, culture, food and music. No matter which day or night of the week it is, you can find an amazing experience to enjoy with friends, family, and even pets!
Mondays
Start your week off with a bang at Belly Up Aspen! As one of Aspen's most beloved nightlife locations which hosts various talent sets and live musical performances each year, it has become the tried and true location for a great night. On Monday, June 28, see Eli Young Band perform at 8:00 pm. At $55 for a general admission ticket, this is an affordable, entertaining opportunity to enjoy with friends, families and others, after providing either proof of vaccination or a negative COVID-19 test. Other artists who will perform later in the summer at Belly Up include Kygo, LeeAnn Rimes, David Spade, Louis the Child and The Beach Boys.
Photo: Matoma performs at Belly Up in 2018 and rocks the house (Belly Up Aspen).
If your Monday night calls for relaxation with family and friends, head to Ajax Tavern! On their dining patio with stunning mountain views, Ajax Tavern will offer dinner and a movie every Monday evening. Films include something for everyone at every age, with choices ranging from Finding Nemo to Men in Black to Catch Me if You Can (Aspen Snowmass).
Photo: Patrons gather to enjoy dinner and watch a movie on the dining patio at Ajax Tavern (Aspen Snowmass).
Tuesdays
For more music and culture appreciation, attend the Composition Program Readings on Tuesday, July 20. The Aspen Conducting Academy orchestra, consisting of staff members Robert Spano, Alan Fletcher, Stephen Hartke, and Christopher Theofanidis, will perform works for students of the Aspen Music Festival and School (Aspen Music Festival and School). These students will provide commentary on the compositional structure of the pieces. Truly understanding the discipline and dedication of the students at the Aspen Music School allows for an even further appreciation of the music they create and offer to the public each summer.
Photo: An orchestral performance at the Aspen Music Festival in 2017 (Aspen Sojourner).
Wednesdays
If you find yourself a little dreary halfway through the week and need a burst of energy this summer, the combination of comedy, live music, and artistic talent at Wednesday Night Live in Basalt is for you! This event originally took the place of Basalt Chamber's Wednesday concert series during COVID-19 due to restrictions on gatherings and the enforcement of social distancing, but the community embraced it so much that it will become a permanent installation. Add a little spice to your hump days from June 23 - August 11, 2021 and observe the various street performances, ranging from musicians to magicians to jugglers to comedians. Distributed throughout Basalt's two main business districts, this event is both convenient and entertaining!
Photo: A performer in last summer's Wednesday Night Live entertains the crowd while playing with fire (Aspen Daily News).
Thursdays
Start your weekend and your summer off right with the free concert series in Snowmass Village on the Fanny Hill Concert Stage. Beginning June 10, 2021, Snowmass JAS will welcome artists to perform each Thursday evening from 6:30 to 8:30 pm. These concerts are a tradition 29 years in the making, and this is a local favorite! During the summer, each Thursday evening consists of a different musical performance with an incredible, mountainesque backdrop! (Go Snowmass).
Fridays
Beginning July 5, head up the mountain for a yoga session with instructor Jayne Gottlieb. Stretch out on The Sundeck and learn new poses, sequences, and increase your overall flexibility and peace of mind. Following your workout, grab a prepared meal from the restaurant packaged especially for you. Classes will respect CDC guidelines for social distancing, and be sure to bring your own yoga mat!
Photo: Participants enjoy an hour long yoga session atop Ajax Mountain with instructor Jayne Gottlieb (Aspen Snowmass).
Saturdays
After your weekend morning coffee at Paradise Bakery, support local farms and small businesses at the Aspen Saturday Market! Lasting through the summer into the fall season, the Aspen Saturday Market is in business from June 12 until October 9. This long-time tradition has held its own in Aspen since 1998, and empowers Colorado farmers by encouraging purchase of their locally-grown produce and artisan products. The market is open from 8:30 am to 2 pm, and includes fresh produce, breads and pastries, as well as an exhibit with llamas!
Photo: The village of white tents that houses the products of local farms and small businesses on summer/fall Saturday mornings and afternoons (Aspen Daily News).
When you've completed your rounds through the white tents and decided on a few delicious options to enjoy from the farmers market, head up toward the mountain with your snacks for Live Bluegrass Music at The Little Nell.
Sundays
Head to the Aspen Art Museum to discover the full realm of your artistic abilities! At this family-friendly event, the workshop will focus on various forms of artistic expression and create opportunities for artists of all ages. Gallery tours will also be offered in American Sign Language, Spanish and English. This workshop occurs twice a month on the third level of the Aspen Art Museum. See the AAM website to register and learn more. (Aspen Art Museum).
Photo: The Aspen Art Museum flaunts its unique architecture on a gorgeous Aspen summer day (Aspen Art Museum).
No matter which events you choose to attend, the Roaring Fork Valley is back in action and filled to the brim with options for a lively, non-quarantined summer! Please keep in mind that admission to certain events requires proof of vaccination or a negative COVID-19 test, as county guidelines still advise social distancing for non-vaccinated individuals. For a full calendar of more events and activities to enjoy throughout the summer, visit the chamber websites for Aspen, Snowmass, Basalt, Carbondale and Glenwood Springs.