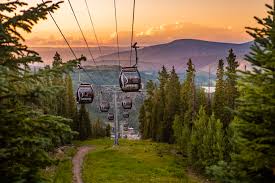 Lifestyle and Events
6/18/2020
All Things Summer in Snowmass Village
Happy Father's Day Weekend from Aspen Snowmass! The official calendar start to summer is this weekend, and we couldn't be more excited. This weekend also marks the opening of Snowmass Village for the summer season. The Elk Camp Gondola opens this Sunday, June 21st at 10am for summer service. Snowmass is known for its amazing winter resort and family-friendly atmosphere. During the summer, it is a mountain paradise, and still maintains the family-friendly atmosphere. Read on for all things summer in Snowmass!
Hiking is a favorite activity among locals and visitors alike. There are many trails in and around Snowmass Village, and quite a few are on Snowmass Mountain. Hike up the mountain, and take the Elk Camp Gondola down. Or take the Elk Camp Gondola up to explore even more trails. If you're new to the area, book a local hiking expert for either a half or full day of exploring the Snowmass Rocky Mountains.
Biking has recently become one of the more popular summer activities. The Roaring Fork Valley is designated IMBA Gold Level Ride Center. There are only 7 of this kind in the world, and the only one in Colorado. Snowmass Bike Park is included in this, and offers something for every type of downhill mountain biker. There is over 3,000 vertical feet of trails. The Elk Camp chairlift is also open to hikers and bikers alike during the summer to easily access even more terrain to experience.

Instead of Farm-to-Table Tuesdays at Elk Camp Restaurant, Snowmass is offering Bonus Nights on Tuesday nights. This weekly will include a complimentary ride on the Elk Camp Gondola, Lost Forest activities (including the popular Breathtaker Alpine Coaster), Bike Night in the Snowmass Bike Park, as well as dining services and live music at Elk Camp Restaurant. There will only be seven Bonus Nights this summer, so plan accordingly for a memorable Tuesday night in the mountains.

For more details on any of these offerings, tickets, passes, and information on the COVID-19 policies, please go to aspensnowmass.com/our-mountains/snowmass/summer. Have a great weekend, and Happy Father's Day!