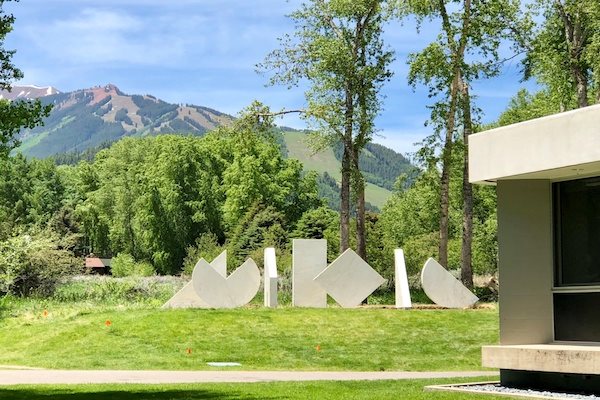 ART & DESIGN
7/23/2018
All About Bauhaus: A Q&A With The Aspen Institute's Curator Lissa Ballinger by Katie Shapiro
Whether you're a budding collector looking to add art to a new home, a realtor with staging needs or an experienced enthusiast shopping for a new piece, there is no better time to visit Aspen than late summer.
In recent years, Aspen has solidified its position on the international scene as one of the leading art destinations in the world. But its high-brow reputation has roots dating back to 1949, with the start of one of design's great movements—the Bauhaus.
Now, the Bauhaus movement is coming full circle thanks to longtime local Lissa Ballinger, curator for The Aspen Institute. In 2019, the world will collectively celebrate the 100 year anniversary of the Bauhaus with a slew of special events to partake in locally.
Ahead of official festivities next year, the 1978 sculpture created by renowned Bauhaus architect and artist Herbert Bayer, was unveiled on Aspen Institute's West End campus. Bayer hand-selected the Carrara marble from Central Italy for this seven-piece geometric sculpture that measures 32 x 8 x 8 feet. The sculpture was acquired from the Denver Art Museum in 2017, through the support of Melony and Adam Lewis, Aspen-based philanthropists and members of the Aspen Institute Society of Fellows.
Aspen Institute President and CEO, Dan Porterfield, shared in a statement, "The Anaconda sculpture is a wonderful addition to the Aspen Meadows Campus for the enjoyment of the whole community and to share in celebrating Herbert Bayer's legacy. We are thrilled to install this sculpture as we gear up for next year's celebration of the 100th year anniversary of the founding of the Bauhaus School."
Prior to spearheading the Bauhaus centennial exhibition, Ballinger worked with private clients, local galleries and non-profit organizations through her company, Walnut5 Art Advisory. Ballinger started her company in 2010 and offers services ranging from collection management and preservation planning to curation and placement consulting.
Before her "An Introduction to Bauhaus" art talk on Wednesday, July 25 at the Wheeler Opera House, we caught up with Ballinger to get tips for collectors, her favorite spots for finding art and learn what sets Aspen's art scene apart from anywhere else in the world.
Aspen Snowmass Sotheby's International Real Estate: What first brought you to Aspen?
Lissa Ballinger: The reason that I came to Aspen [in 2002] is because there is literally no place on earth—that is also a mountain town—which has this range and quality of cultural opportunities. Period.
ASSIR: What sets Aspen art scene apart and how has it changed over the years?
LB: I wrote my thesis on the visual arts in Aspen [she obtained her Masters of Art Administration from Columbia University] and at that point, I was talking about this influx of second home owners and how that had changed the viability of it being a year-round community. But now, 15 years later, it's so interesting for me to reflect about how much it has changed since then. Art is all over the Roaring Fork Valley, our artistic achievements are being recognized on a much higher level and we're truly a cultural center destination.
ASSIR: Where are your local, go-to spots to shop for art?
LB: The recurring shows at the Red Brick Center for the Arts and the Aspen Chapel are stocked with work from local artists. Anderson Ranch's "Lunchtime Auctionette" every Friday in the summer is the biggest gem! And I always find something at their Annual Community Picnic. Downtown, Maker + Place and the Skye Gallery are each owned by young women entrepreneurs and Aspen natives. And the level of art-making down valley is incredible! The ArtBase in Basalt has a fantastic rotating gallery of local artists. I also love The Launchpad and SAW [Studio for Arts + Works] in Carbondale.
ASSIR: And on the gallery side?
LB: Gallery Maximillian, Baldwin Gallery, Harvey/Meadows Gallery and Boesky West.
ASSIR: What trends have you observed in the past year? Do you think the societal shift in the preference of "shopping local" has affected the art world?
LB: I would love that to be an art trend, especially as prices continue to go haywire…the relationship between money and art fascinates me. While Aspen has a thriving scene, there just haven't been many venues for local artists to showcase their work. I've seen that change recently, which is really exciting. Overall in contemporary art, there was this departure from photography for awhile—it can be ubiquitous and people seemed less interested, but it's coming back around.
ASSIR: What's your biggest piece of advice for new collectors?
LB: Entering the world of art collecting can be overwhelming, intimidating even. My first thing I tell new collectors is to do research and be curious. Find out what specifically you're interested in to keep your search narrow. I also encourage people to study art movements, which can help influence decision-making. Unabashedly right now, it should be all about the Bauhaus! And for more serious collectors, art advisors can play a really important role in helping guide you to discovering your personal taste. If you're just beginning to collect, there are so many unbelievable and affordable experiences here to discover art if you seek them out.
UPCOMING ASPEN ART HAPPENINGS
16th Annual Aspen Arts Festival
Saturday, July 21–Sunday, July 22
Rio Grande Park
Free, artfestival.com
An Introduction to Bauhaus: Lissa Ballinger Art Talk
Wednesday, July 25, 5:30pm
Wheeler Opera House
Free, wheeleroperahouse.com
ArtAspen
Friday, July 27–Sunday, July 29
Aspen Ice Garden
$25, art-aspen.com
Aspen Art Museum ArtCrush 2018
Wednesday, August 1–Friday, August 3
Venues vary
$1,875, aspenartmuseum.org
28th Annual Art Auction and Community Picnic
August 4, 11 a.m. - 3 p.m.
Anderson Ranch Arts Center
$15, andersonranch.org
Aspen Chapel Gallery Artist Talk
Wednesday, August 15, 5:30 p.m.
Aspen Chapel
Free, aspenchapel.org
Art and Walking Tour of the Aspen Institute hosted by Lissa Ballinger:
Herbert Bayer Mountains and Convolutions, 1944–1953
September 12, 11 a.m.
Meets at the Aspen Institute Resnick Gallery
Free, aspeninstitute.org
Lunchtime Auctionette
Every Friday through September 21, 11:45 a.m.
Anderson Ranch Arts Center
$10, andersonranch.org
Blog Credit to Katie Shapiro