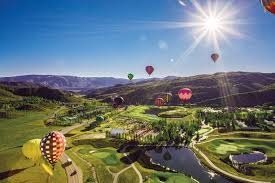 Lifestyle and Events
9/6/2019
Afternoon Blend, Snowmass Balloon Festival, Cidermass, Septemberfest
Happy End of Summer! After a jam-packed Labor Day weekend with beautiful weather and awesome music, we are ready for fall, and even looking forward to winter!
This past Wednesday, Aspen Chamber Resort Association hosted their annual event the Afternoon Blend at the Sundeck on top of Aspen Mountain. Aspen Skiing Company officials spoke to the local business crowd about the past, memorable winter and the upcoming winter season.
Last season was the longest recorded season at Aspen, with 168 days. Two people logged 167 skier days. One skier, not a patroller, logged 115 Highlands Bowl laps. Skier visits at all four mountains were up 20% from last season. Wow! Beyond all of these impressive records, Aspen Skiing Company made history by joining the Ikon Pass last season. This season, Premier Passholders will also have the base Ikon Pass. Passholders must redeem this benefit online by December 12th.
Winter is quickly approaching (only 83 days until ski season!), but there are still plenty of fun ways to enjoy the gorgeous Fall season in Aspen Snowmass. This weekend is filled with classic and soon-to-be classic events in Snowmass.
The 44th annual Snowmass Balloon Festival kicks off on Friday, September 6th. Each morning from 7-10am, over 30 hot air balloons will be on display and launching from Town Park. Balloon Night Glow, the festival's most popular event, is tonight. Stop by Town Park between 6-9pm to see the balloons all lit up against the night sky, kids activities, pilot games, and enjoy food and drinks from local vendors.
The 2nd annual Cidermass is also this weekend on the Snowmass Village Mall from 1-4pm. Taste hard ciders from over 20 different vendors and enjoy a (hopefully) beautiful fall day. Tickets are available online for $35 or $45 day of and include the tasting plus your own glass.
After Cidermass, take the Skittles Gondola down to Snowmass Base Village to enjoy Snowmass Septemberfest from 4-7pm. Kids and adults alike can enjoy lawn games and activities, plus face painters, a bouncy house, and a petting zoo- just for kids! Enjoy food and beverages from Base Village restaurants, peruse local vendors showcasing and selling goods- there is truly something for everyone at this awesome FREE event!