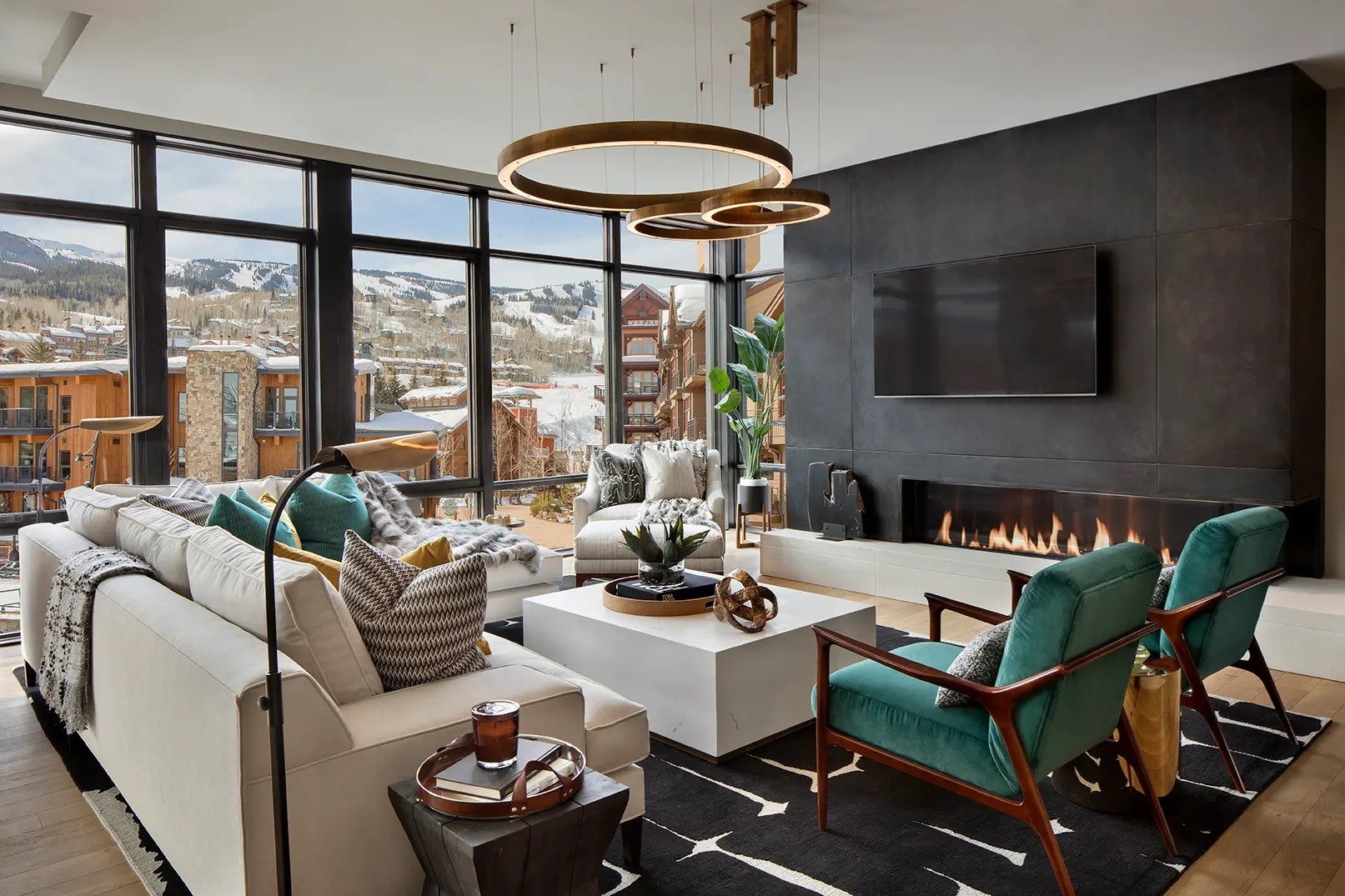 Lifestyle and Events
10/18/2019
A Wonderful Winter Ahead At One Snowmass by Katie Shapiro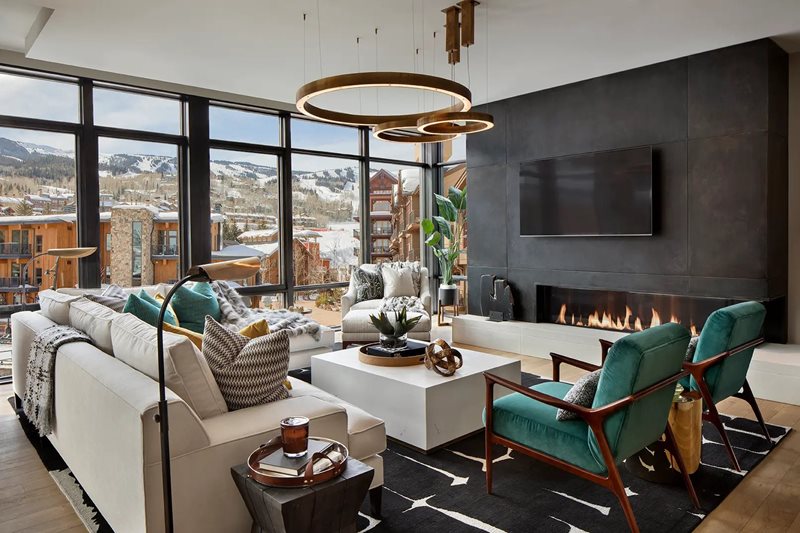 After its much-anticipated and celebratory debut season last year, Snowmass Base Village is readying for another wonderful winter ahead with new happenings, restaurants, boutiques, and real estate opportunities.
At Aspen Skiing Company's annual "Upload for the Download" summit in September, Skico executives and Town of Snowmass Village officials shared the successes from 2018/2019, highlighting the Ikon Pass as a driver of new visitors. The focus was on the ongoing development of SBV, which beginning in November, will officially welcome One Snowmass.
The two buildings (One Snowmass East and One Snowmass West) will be joined by an enclosed walkway that allows the buildings to essentially "live as one." One Snowmass will also serve as the new arrival center for SBV, featuring a central check-in, hospitality welcome area, and transit center for the Roaring Fork Transit Authority. RFTA will add a free shuttle service to and from downtown Aspen with stops at Aspen Pitkin County Airport, Buttermilk, Aspen Highlands, and more along the way.
One Snowmass's partnership with Inspirato — a Denver-based global leader in luxury travel — is the first of its kind, combining Snowmass home ownership with access to its exclusive collection of private homes, hotels, resorts, and bespoke experiences around the world.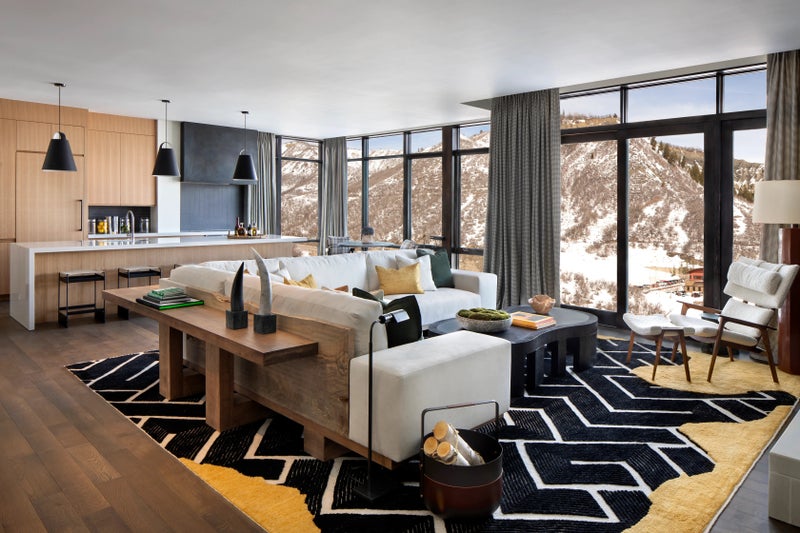 One Snowmass West
Comprised of two-, three- and four-bedroom residences ranging in approximate size from 1,620 to 3,770 square feet, the 41 total units exude a mountain modern aesthetic with an emphasis on familiarity, comfort, and timelessness using details like high ceilings, rustic wood floors, warm textures, and carved accent tiles. A soon-to-be-announced fractional ownership program (1/15th interest) will be offered in One Snowmass East. Both new fractional and whole ownership buyers will also receive a five-year Inspirato Membership, which includes access to the in-house Inspirato Lounge on the ground floor of the building. Offering an exclusive, slopeside hangout, owners and Inspirato members can après-ski, mingle, and relax after a day on the mountain. A private fitness center and rooftop terrace with an infinity-edge spa and fire pits are also available to owners and renters.
With a bevy of additional benefits, we caught up with Andy Gunion, East West Partners managing partner for the Roaring Fork Valley, to break down the most commonly asked questions about SBV's latest real estate offering for you:
Can I buy my residence furnished?

One Snowmass will feature two model residences that are fully furnished and can be purchased at an additional cost of the furnishings. As most residence owners prefer to select their own furnishings, One Snowmass does not offer furniture packages, but we can connect you with designers who can help you complete your residence.
Can I rent my residence?

Yes, you can rent your residence if you would like. The One Snowmass partnership with Inspirato offers world-class property management through Inspirato. In addition, Snowmass Mountain Lodging will be managing the HOA and offers a premier rental program.
Will One Snowmass be pet friendly?

Absolutely. Residents at One Snowmass are allowed to have two pets. There are no restrictions on breeds, but all pets must be safe, and their existence cannot create a nuisance to other residents. Of course, you must be diligent about picking up after your pet.
Will there be charging stations available to charge my electric vehicle?

Yes. The garage features charging stations that owners may utilize.
Where can I store my skis and boots?

Owners will have access to a private ski locker room located on the second level in One Snowmass East. Each owner will have a locker for ski and boot storage.
What do you mean when you say One Snowmass is a healthy building?

We partnered with Certified Healthy to ensure and validate that One Snowmass is a healthy and safe place to live. And we held ourselves to the highest standards for healthy design and construction. The LEED rating and certification system is the industry standard for environmentally sustainable building. This process offers third-party verification that One Snowmass has been designed and built using strategies aimed at reducing energy and water usage, promoting better indoor air quality and improving quality of life. One Snowmass is pursuing a Gold certification from LEED.
How do I get more acquainted with the HOA?

Prior to closing, the HOA will offer a new resident orientation, where we will provide you with a homeowner handbook, which explains everything and includes a copy of the rules and regulations. Upon closing, you'll begin to receive communications to keep you informed of upcoming meetings and other important events and information.
How much are the HOA dues?

Current estimates indicate an average of $17 per square foot annually (including both One Snowmass and Base Village Master Association). This amount includes the annual allocation to reserves for long-term repair and replacement of common elements.
What will my HOA dues include?

The HOA dues include all of the amenities and services in One Snowmass, including utilities: property insurance, engineering services, water, sewer, trash/recycling, gas, electrical services, snow removal, common area property maintenance and parking assessments from the Master Association.
What additional costs will I be responsible for as an owner?

In addition to the individual HOA dues, each homeowner is responsible for their home's phone, TV and internet access, property taxes and homeowner's insurance for furniture, art or any residence upgrades performed by the homeowner after initial closing.
Who is handling the property management at One Snowmass?

Snowmass Mountain Lodging will lead property management duties at One Snowmass. SML operates numerous other properties in the Base Village.
Who are the brokers representing One Snowmass?

SV Real Estate LLC is the listing brokerage for One Snowmass representing the seller, but we work with all cooperating brokers, so you are welcome to have your own representative.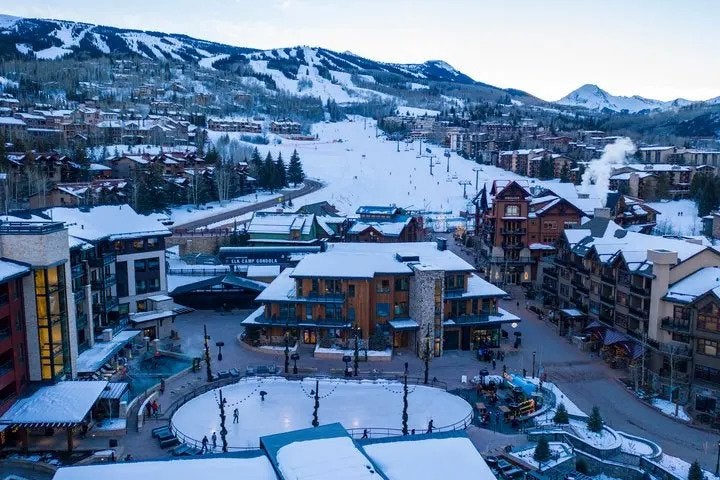 Photo: Matt Hobbs
Perhaps the biggest draw is all of the action residents will find right outside their door. In addition to the interior completion of The Collective — a vibrant community hub with special events and an in-house bar and restaurant — the following amenities will round out the already-bustling SBV scene this season on the plaza level of One Snowmass:
JÜS Snowmass

will open its second location (

the first is in downtown Aspen

), with hand-crafted cold-pressed juice blends, smoothies, and dairy-free drinks. The menu also includes healthy breakfast and lunch options.
A

full-service salon and spa

(TBA) will offer haircuts, manicures, pedicures, facials, massages, and high-end beauty products.
Locally beloved

King Yoga

reopens to the public offering

daily yoga classes

that combine healing practices with music to help students find balance between body and mind.
Eye Pieces

, a Colorado-based

optical boutique chain

, offers everything from designer frames and prescription lenses to high-performance sports frames and goggles.
The

Snowmass Medical Care Clinic

, open seven days a week, year-round, is available to locals and visitors alike as a walk-in facility owned, operated and billed as an outpatient department of

Aspen Valley Hospital

.
Five whole ownership residences remain in One Snowmass West with One Snowmass East coming to market this winter. For advance sales opportunities or to take a tour, contact Aspen Snowmass Sotheby's International Realty at 970–925–6060. And for more information, visit allinsnowmass.com.