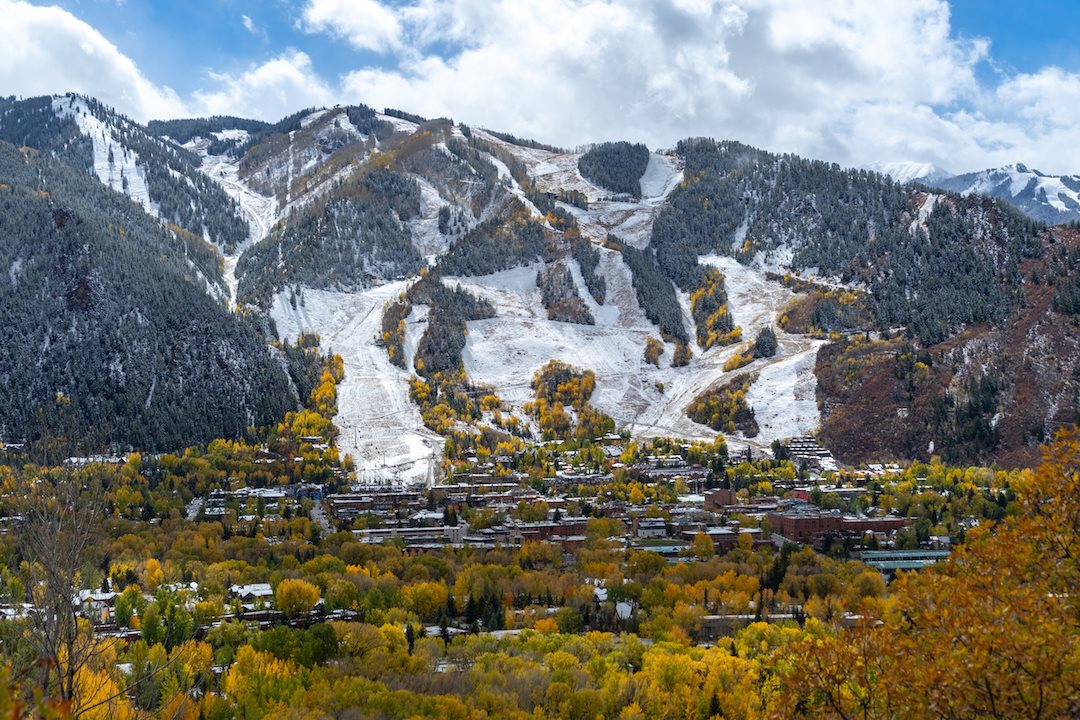 Real Estate
10/17/2018
A Complete Guide to Off-season in Aspen by Katie Shapiro
Glitter Gulch, Tony Town, Fat City, Canary City … ah, Aspen. The monikers for this rich-in-history former mining enclave are thanks to a glitz-and-glam reputation bolstered by billionaires on holiday, celebrities hiding out, luxury boutiques, fine dining, five-star resorts, a world-class arts scene and of course, jaw-dropping real estate. But it's the full-timers—from hippies, ranchers and artists to families, farmers and athletes—who've given the ski town its true soul over the years and still help balance the high life with real life year-round.
As soon as the leaves stop falling in October, many businesses hang "Gone to the beach" signs on their doors signaling a bi-annual, well-deserved break before the lifts start spinning. The snow has already arrived, which means one thing: off-season has too.
While the scene is noticeably slower, if you're thinking about purchasing a vacation property, scoping out a short-term rental or just booking a pre-holiday holiday, now is the perfect time to plan a visit to get a true sense of what life in this year-round, close-knit community is actually like.
Here's a complete guide to living like a local:
EAT + DRINK
It's usually a guessing game when trying to find a place to eat and drink from now until the first week of December. But there are plenty of spots that stay open, many showing their appreciation for those who stick around town with deep discounts.*
Locals gather every morning for high-fives on the patio or catch up at the community table at Jour de Fête (710 E. Durant Ave., 970-925-5055, jourdefeteaspen.com), family owned and operated since 1988. Owner Olivier Mottier's French roots shine through on the breakfast and lunch menus, but the chorizo burrito here is the go-to to-go.
Grab a signature Hillstone sandwich and a handcrafted cocktail at White House Tavern (302 E. Hopkins Ave., 970-925-1007, aspenwhitehouse.com), an always-bustling, cozy converted mining-era home that inspired its name.
Do the daily lunch special at Mezzaluna (mezzalunaaspen.com), where pastas and pizzas are $12 or the daily dinner special offering your pick of five $15 entrées or $8 appetizers with 25% off all bottles of wine.
Meat & Cheese (319 E. Hopkins Ave., 970-710-7120, meatandcheeseaspen.com) always makes for a special meal of award-winning "world farmhouse" cuisine, creative craft cocktails and too-pretty-to-eat charcuterie boards. Plus, they give everyone 15% off for off-season in the restaurant and Farm Shop through November 20.
Head just outside of town to Home Team BBQ (38750, CO-82, 970-236-2040, hometeambbq.com) for daily happy hour with a special menu from 4-6 p.m., "Friday Night Live" with Woody Creek Distillers drink specials and a rotating roster of local bands or Sunday brunch with NFL Sunday Ticket on the big screens.
Campo de Fiori (205 S.Mill St., 970-920-7717, campodefiori.net) offers 25% off the entire bill every night of the week (excluding bar menu) where you can chat up the regulars and warm up with authentic Italian eats.
Everyone loves Rustique Bistro (216 S. Monarch, 970-920-2555, rustiquebistro.com) for its "Fried Chicken Thursdays" including three courses for $27 and its nightly prix fixe for two courses for $36.

Duck into The Little Nell (675 E. Durant Ave., 970-920-4600, thelittlenell.com) for three courses for $47 in the luxury hotel's signature restaurant Element 47 through October 31.
*For the full list of who's open and who's closed, visit eataspen.com. And always ask your server to confirm special offers.
STAY
Take advantage of lodging deals like the Limelight Hotel's Colorado Locals Rate which offers a standard or deluxe room from $160 per night with proof of residency (355 S. Monarch St., 970-925-3025, limelighthotels.com). Find a five-star stay for less at its sister property, The Little Nell, for $245 per night for a standard room through November 22. Aspen Meadows Resort offers a Leaf Peepers Fall Foliage Package, valid through October 22 for 20 percent off lodging with breakfast for two daily and a Colorado Local's Special for up to 40% off a regular room rate through December 20 (845 Meadows Rd. 970-925-4240, aspenmeadows.com).
SEE + DO
Droves of visitors go crazy to catch the fall colors, which peak in Aspen in late September and although the snow is already falling, there's still a little bit of leaf peeping to be had. Car restrictions up to the Maroon Bells (fs.usda.gov) ended on October 8 and the road stays open through mid-November, so now, you can take a leisurely drive up to sightsee around one of the world's most photographed mountains or to Ashcroft Ghost Town (aspenhistory.org)—both sure to be much more serene sans the crowds.
The Aspen Art Museum (637 E. Hyman Ave., 970-925-8050, aspenartmuseum.org) presents innovative exhibitions from the international contemporary art scene with admission free of charge thanks to its generous donor base. Its roof deck café is a favorite spot for coffee or lunch meetings, which also plays host to Movies at the Museum—an ongoing series of free film screenings.
Weather permitting, take a walking tour through the West End with the Aspen Historical Society (620 W. Bleecker, 970-925-3721, aspenhistory.org), which is focused on history, architecture and the little-known facts about the Victorian-era homes and the people who lived in them. By appointment only, you can also go for a guided tour of downtown Aspen in AHS' new electric vehicle—complete with a visit to both the Wheeler/Stallard Museum and the Holden/Marolt Mining and Ranching Museum.
Listen to live music at the Belly Up Aspen (450 S. Galena St., 970-544-9800, bellyupaspen.com), which has local bands on the calendar with no cover mixed with headliners like Carl Broemel of My Morning Jacket (October 30) and Michael Franti (November 11).
The third annual Lead With Love, a four-day retreat (October 25-28, ileadwithlovesummit.org) at the Aspen Institute, offers yoga and meditation, spiritual psychology sessions, self-care services, leadership seminars and an eco-friendly marketplace.
Get your ski legs ready with yoga at Aspen Shakti (535 E. Hyman Ave., 970-925-1655, aspenshakti.com), a pilates session at O2 Aspen (408 S. Mill St., 970-925-4002, o2aspen.com), or spin class at CycleBar (110 S. Spring St., 970-710-7398, aspen.cyclebar.com). Rejuvenate at the St. Regis Aspen's Remede Spa (315 E. Dean St., 970-920-3300, stregisaspen.com) where you can spend an entire day in between the grotto, hot tub, cold plunge pool, steam room, sauna and oxygen lounge. A Local Love special is valid for a 60-minute massage or facial for $150 through October 18
Blog Credit to Katie Shapiro, Aspen Snowmass Sotheby's Elevated Living Blog